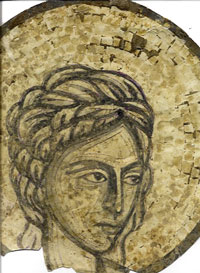 The soul, the eye, the mind's vision, and an Orthodox heart create an icon's window to eternity. We call them Byzantine icons and in America the master is Robert Andrews. His inspired mosaics are monuments of Orthodox faith across the land.

In 1972, Archbishop Iakovos viewed the new Resurrection icon at Holy Trinity Church in San Francisco, California -- a 16 by 50 foot mosaic located in the apse. He wrote to Andrews: "We were very pleased with your mosaic of the Resurrection, which is your design and creation, and which is one of the finest examples of art we have seen in any of our Churches in the Western Hemisphere."


Today, Holy Trinity of San Francisco features 60 mosaics completed by Andrews. They are: the Twelve Apostles on ribs supporting the dome, each 27 feet tall and 16 feet wide; other smaller ones 8 by 18 feet on 12 walls; and pillars up to 50 feet high covered with 28 mosaics -- five by eight feet in size. Currently, Andrews continues to work there on 16 more.

Mosaic icons by Andrews can be found in more than twenty-five churches across the country -- from San Francisco and Stockton, California, to Seattle, Washington, to Salt Lake City, Utah; Phoenix, Arizona; Merrillville, Indiana; Rochester, New York; Washington, D.C.; and in the churches of his home now, Massachusetts -- Hyannis, Lowell, Marlboro, Pittsfield, Somerville, Springfield, Cohasset, Haverhill, Quincy and Boston.

Overall, it has been a quiet and modest ascent to reputation. His first commission for a mosaic icon came at his original home parish in Dover, New Hampshire, when the community was rebuilding after a devastating fire. From that simple beginning, Andrews has taken his work across the country and internationally to St. Sofia Greek Orthodox Cathedral in London, England.

In Lowell, Massachusetts, where some call the city a "Venice of New England" with its many canals constructed in the 19th century Industrial Revolution as water power for mills, there is another magnificent sight to see. In the heart of the city, the Greek immigrant society built its own European treasure … the Transfiguration of the Saviour Greek Orthodox Church on Father Sarantos Way. This church, which is affectionately called the "miniature San Marco's of Venice", is bedecked from floor to ceiling with mosaic icons from the hand of Andrews. The mosaic work at Transfiguration began in 1963 with the Platytera, mounted in the apse behind the altar.


In 1993, His Grace Methodios -- now Greek Orthodox Metropolitan in Boston, described the Transfiguration in superlative words: "Due especially to its magnificent mosaic icons, the Transfiguration of Our Saviour Church is one of the most beautiful churches, if not the most beautiful church, in the entire Archdiocese of North and South America."

Although an iconographer follows tradition in the composition of icons, it is notable in Lowell that a predominance of female saints can be found. This happened because of the patrons who requested and donated the panels, Andrews said. However, it may also be the hallmark of America's 21st century to recognize women saints especially in its churches.

More recently, there is a soft and deeply spiritual fluidity in his style, as seen in the Pantocrator of the central dome in St. Demetrios Greek Orthodox Church in Seattle, Washington.

Although the artist can inherently add the touch of his own hand to an icon, the reputation of Andrews is clearly found in his dedication to Byzantine style. For this, Andrews claims a personal ancestry to Hellenistic roots. He was born in Haverhill, Massachusetts, but baptized Rovertos Andrianopoulos.

In the confusion of church art in the United States, parishioners are often bewildered at the myriad styles of European and ultra modern religious designs available. In Orthodox tradition, there is a thirst to return to ages-old Byzantine form. New churches and those renovating for the future, there comes a pressing need for ancient Christian tradition. For this, Andrews has dedicated his life.

Although born in Massachusetts, Andrews grew up in New Hampshire and there he was educated through high school. After graduating, he served in the Navy as a fighter pilot. Later, trained in art, he worked as a potter and portrait painter. For 36 years, he served as an art teacher and department head in Massachusetts schools and colleges. His inspiration in learning mosaic iconography came from research he carried out on 11th and 12th century traditions at the Holy Cross Theological School in Brookline, MA, Boston Public Library, and Harvard University libraries.
Andrews is known for skill in analyzing a particular location for light and source and recommending the best construction for a site. This requires he work as engineer in the design and installation of his icons, something like the mastery of Michelangelo. Others compare him to Spanish artist El Greco who was born in Greece and intimately knew Byzantine iconographic style. The trained art critic perhaps can detect the sensitive grace of El Greco in the work of Andrews.

In a special booklet describing the project at Transfiguration in Lowell, the process of creating the mosaic icon is described in all its stages. First, Andrews prepares a "cartoon", a drawing on paper of the proposed design. These drawings are then sent to a studio in Italy that specializes in preparing the tesserae, small glass pieces for the mosaic itself.

Andrews sends his order for glass mosaic pieces to Italy, to a studio located in Tuscany about 80 miles from Florence and 120 miles from Rome. It is there, at the Citta d'Arte -- a center and school for smelting and hand-cutting the pieces called glass tesserae -- that the spiritual vision begins to take form. The artisans take drawings by Andrews and directions for color, and begin to fit the mosaic together. Their guide is a hand painted icon of the panel by Andrews. In order to adhere to his artistry, they select from over 5,000 different colors of glass pieces.
These glass tesserae are carefully set in and glued to the reverse side of his line drawings. When completed, the icon is carefully divided into units for shipping. Hauled to the west coast of Italy by truck, they are then sent by ship, and sometimes by air, to United States shores.

It is a historical moment, a gripping experience of anticipation, to see Andrews open the crates and lay them out on the floor of the church. He must inspect the work for any changes or corrections in reverse, since it lies face down on the paper backing. Only after the process of spreading the mortar on the wall and using special tools to beat and butter the icon into position, does he finally peel off the paper and see the result of his vision. And … of course, this may mean lying on his back high up on scaffolding near the ceiling of a church.

With patience and dedication, Andrews has climbed to the summit of his career. But, his smile is still compassionate and his eyes just as keen. The glory can only come from above, he realizes. But his work has been accomplished so evidently with love and faith. At great personal sacrifice at times, he has persisted in the name of Orthodoxy. Everything, he knows and humbly admits … is for God and the beauty of God's house.