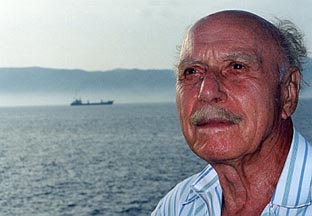 Rigas Rigopoulos
An American professor is preparing the first English edition of an award-winning memoir about a Greek espionage group that was active during the Nazi occupation. Dr. Jesse M. Heines, associate professor of Computer Science at the University of Massachusetts Lowell, had the story translated by Eleni Dedoglou, a UMass Amherst graduate. Heines is now editing
Secret War
by Rigas Rigopoulos, founder and leader of Service 5-16-5.
Nicholas Gage, the author of
Eleni
and
Greek Fire: The Story of Maria Callas and Aristotle Onassis
, has described
Secret War
as "a moving story of courageous men who gave their lives to resist the Nazi Occupation and how they were in a sense betrayed by insensitive British bureaucrats in Cairo."
Beginning in 1942, the undercover organization obtained vital information from a young Greek lawyer employed by the Germans, and transmitted this information to the Allies via wireless set.
The lawyer, Alexander Kairis, withstood the rejection of friends who believed he was a Nazi collaborator. Working within German headquarters, he regularly took documents from the secret archives. These documents helped Service 5-16-5 provide the Allies with information that contributed to the sinking of 55 ships used by the Germans, damage to German fortifications, sabotage, and avoidance of mine fields by Allied ships.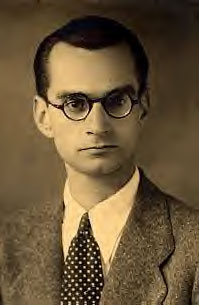 Alexander Kairis
Shortly before Easter, 1943, the Germans detected the group's activities. The wireless set operator, a Pilot of Piraeus Harbor who skippered a caïque used to transport information to the Allies, and two British intelligence liaison officers were arrested and executed. Kairis, on holiday, received warnings that the Germans had identified him as a spy, but went back to work anyway, telling Rigopoulos that "the only important thing" was to "offer as much as possible before we die." He too was arrested and eventually put to death on November 2, 1943, after surviving horrendous torture and being acquitted in two trials before finally being convicted.
In all, the Germans executed six members of 5-16-5. The last was another caïque skipper who was executed on September 8, 1944. But the leader, Rigopoulos, eluded capture, hiding out for three months in the house of a retired Admiral while the Gestapo searched the block. He later escaped to Turkey, where he was duped by a hostile faction within British intelligence and denied his request for more wireless sets.
After the liberation of Greece, the group's surviving members met and agreed to keep the story to themselves. After more than 30 years, however, Rigopoulos came to see the need for a "clearly certified account" that would correct the inaccuracies in newspaper articles and books, and would help younger generations "more wisely shape the future."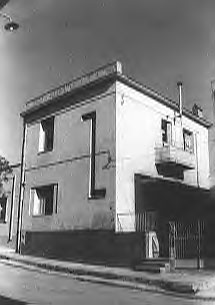 The house in Nea Smyrni where the wireless was located.
Dr. Heines met Rigopoulos while pursuing a computer-related project with his son, Dr. Dionysis Rigopoulos of the National Technical University of Athens. Heines quickly became fascinated by the story of Service 5-16-5 and, in spite of his lack of knowledge of the Greek language, offered to work with Rigopoulos to bring the story to an American audience. Rigopoulos gratefully accepted the offer, and they have now been working together for over two years and are actively seeking help in finding a publisher. Heines may be contacted at 978-934-3634 or
heines@cs.uml.edu
.
The book won an Award from the Academy of Athens and is now being translated into English for the first time. It is dedicated to Alexander Kairis and the five other members of the organization who were killed by the Gestapo. For more information, visit
http://www.cs.uml.edu/secretwar/