For more news, analysis and
features from the Athens News,
visit http://www.athensnews.gr
Hellenic Communication Service, L.L.C. provides links to
Greek News Sources.
Click on the links
below to visit
their sites.

---

Athens Photo News

---

---

---

---

---

---

---

---
Legislation Criticised

The new bill, however, remains the target of harsh criticism.

"Many good points in the bill have unfortunately been underestimated by critics," says Lazos. "And I am very bothered by all those who criticise... as if drafting this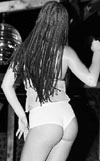 Thousands of migrant girls end up in strip clubs each year

legislation in Greece was the easiest thing in the world. It wasn't easy."

He does, however, acknowledge two weak points in the new draft legislation. These concern personal sex ads (the so-called pink ads) found in most newspapers and holding the "clients" accountable. In the first instance, the drafters of the bill had initially considered outlawing pink ads but later decided against this provision fearing that this would only push those involved in the sex trade to distribute flyers and post notices at all public telephone booths across the country.

"This is evidenced by experience abroad," explains Lazos. "It would have been very easy for them to fill all telephone booths and shop windows with these stickers. So, we would have solved one problem only to have created another," he says, adding that the government would also have to prosecute newspapers and other publications and enter lengthy legal battles.

Furthermore, the criminalisation of the "clients", an estimated one million men, would have opened a Pandora's Box of additional problems. Lazos, who admits to be in favour of prosecuting the "clients", says that doing so would have weighed heavily on society as about half of all married men in Greece visit prostitutes, many of them victims of the sex trade, regularly.

"If we had decided to do so, it would have been easy," explains Lazos. "We could send 100,000 of them to court in just a month. But do you know how many families we would be breaking up?" Lazos says he would have liked to include this in the draft law, but was forced to say no "because of the social conditions in this country".

Irina's campaign

The protagonists in Greece's effort to end trafficking of women and children for the purpose of prostitution and sexual exploitation say it is imperative to increase public awareness of the matter. Such initiatives, they stress, must go hand in hand with law enforcement efforts. A television campaign launched by STOP Now is already well underway.

This television spot was created for free by ADEL/Saatchi & Saatchi. It features a 22-year-old woman named Irina, who is a striptease artist at a nightclub. She was a former teacher and came to Greece in search of a better life, but her passport was seized by traffickers and she was forced into the sex trade. "The trafficking of people is a trade in slaves," says the message at the end.

A second spot will be launched in October and a third in December. STOP Now is also preparing to launch a radio and print campaign and to set up a telephone hotline for the victims.

"One of the problems is that people don't know, or they might not be fully aware, that trafficking is modern-day slavery," Dina Vardaramatou, STOP Now's project coordinator, tells the Athens News. "One of our goals is to make the true dimensions of trafficking known to Greek society. If you inform the public and help them to understand exactly what you are talking about, then you can start to change the situation."

The group is now trying to reach out to the men in Greece. "My rather optimistic point of view is that at least some of the one million 'users' in Greece might stop seeing these trafficked women if they come to understand that in reality these women are slaves and that they are suffering," adds Vardaramatou.