(Rye Beach, NH)--On June 7 and 8 the Institute Estia Neas Smyrnis and the Publisher Kastaniotis Editions hosted presentations of Ta ploia tis symponias (Ships of Mercy) authored by Christos Papoutsis (Papoutsy). Capacity audiences attended both book presentations, including local and national dignitaries. Among those present at the events were Deputy Minister of Infrastructure, Transport, and Networks Nikolaos Sifounakis, Metropolitan Symeon of Nea Smyrni, noted journalist Andrew Leech, and Director of the Press Office of the Consulate General of Greece at Boston, Ms. Magdalini Kantartzi, Director of Hellenic Electronic Center, Evangelos Rigos, and a representative of the Stathakos Center in Astoria, New York, George Kamvysellis.

Each presentation began with a brief summary of the book by the author, followed by reviews of the book by each of four panelists: Ioannis Manoukas, philologos and editor of Palmoi tis Vatoussas, a quarterly publication from Lesvos; Evangelos Gdondelis, philologos and writer; Christos Stavrakoglou, philologos and president of a Vatoussan Foundation; Dino Siotis, noted Greek poet and publisher of the literary journal (de)kata. Concluding the presentation was a poem reading of George Horton's "The Martyred City" by Mary Papoutsy.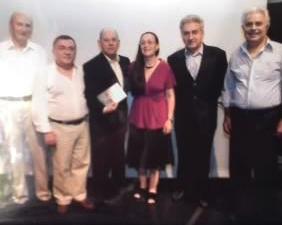 Photo caption: (left to right) Christos
Stavrakoglou, Ioannis Manoukas, Christos
Papoutsy, Mary Papoutsy, Dino Siotis,
Evangelos Gdondelis. Photo by Spyros
Katapodis--all rights reserved.