On Friday, June 4, 2004, at Stoa tou Vivliou, in Athens, Greece, a book presentation was held for Dino Siotis' latest book of poems,
Den Gnorizo, Den Apanto
. Produced by Kedros Publishers (
http://www.kedros.gr
and
kedros@otenet.gr
), this collection of 46 Greek poems tops an impressive career for Siotis. Taken together with his numerous other works, including prose works and anthologies, they speak of a lifelong passion for literature, ideas painted in full color by words.
A capacity crowd from throughout Greece, Europe, and the United States attended the readings and presentations by a panel of distinguished figures from literary and dramatic circles. Well-known Greek actress Katerina Didaskalou gave a dramatic reading of several of Siotis' poems to a hushed audience, followed by an insightful review of the new collection by Costas Papageorgiou, noted poet, critic, and magazine editor. Ikaros Babasakis, novelist, translator, and literary critic, presented a focused analysis of several poems, after reminiscing about his long-time acquaintance with Siotis and expressing his respect and admiration for his work. Likewise, congra
tulatory remarks were conveyed by videotape from Nanos Valaoritis, another widely respected Greek literary figure. Siotis concluded the presentation by reading several of his own poems.
Acknowledged by critics as an important figure in the world of Greek literature, Siotis has been called by some "a talented painter of multi-hued words," in response to his own comment that "the rhapsody of the contemporary man has many colors—all black." In
Den Gnorizo, Den Apanto
, Siotis begins his odyssey back to Greece, following the acclaimed publication of his English-language collection of poems in Foreign Territory (Philos Press 2001). Greek themes pervade this new collection, with such titles as "Medusa," "Athens 2002," and "The Comrades of Odysseus," and frequent references to Greek geographical locations and centuries-old cultural themes. Siotis succeeds in his arduous journey back, having traversed the elusive portals between two disparate worlds like a shaman of consummate skill. He re-enters the realm of the Aegean, breathing in its creative force to emit a rainbow of emotions upon a poetic horizon, much to the delight of readers. One of Siotis' works ("The Poem") in this collection even ventures an answer to queries about his reason for writing poetry:
If you should suddenly ask me why I write poetry,
It would take me two or three minutes to answer.
I would show you an olive grove and ask you
To look closely at the trees, their joyful shimmering
Beneath the sun, so many leaves, so many fruit,
How they say so little and give us so much.

Critics of his earlier collections have judged them well. One reviewer for a major distributor penned the following about Siotis'
Foreign Territory
(J. Massa, www.amazon.com, 28 April 2002):
I have been following Siotis' work for many years. It is, for the most part, timely and universal but with enough magic to carry one directly to the Aegean. . . . Foreign Territory is noticeably seasoned. Innocence, brought to the complexity of international modernity woven with the threads of the simplicity of Tinian origins, is re-placed with wisdom, woven with threads of cynicism. Dualities of identity and religion and politics are piercing; lies and falsehoods are penetrated by a poet once (and still) "a believer." This latest is Siotis' finest work to date. It uniquely places often harsh realism in a frame of beauty, grace and wit, as only a poet, and this poet, can.

Robert Herschbach, the editor of the Hellenic Communication Service website, reviewed the same collection favorably, opening his remarks with an overall impression of the collection:
In much of Foreign Territory, the new book of poetry by Dino Siotis, the speaker is a kind of information-age nomad, an inhabitant of the transnational void, afflicted by an elegiac ache for a place where "time was slow and endless and everything had a sweet taste." The nomad, as we know from the Odyssey, always risks becoming a No-Man; and while Homer's resourceful traveler made it back to Ithaca, Siotis fears his return will be blocked, in part by his own knowledge, experience and desires. . . . the poet naturally wonders if he is condemned to go on living in multiple languages and homelands, afflicted with permanent dual citizenship. He can't even take solace in an unadulterated nostalgia; when he's not longing for Tinos, he's dreaming of California. Siotis pays homage to the allure of America's open roads and democratic vistas, while also registering disappointment with the country "which years ago charmed me/but today tells me nada."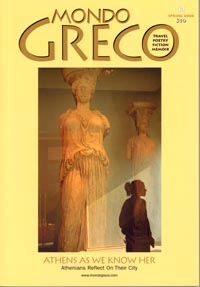 The full text of the review by Robert Herschbach can be found at the link
http://www.HellenicComServe.com/foreignterritory.html.

To those who make his acquaintance, Siotis appears a thoughtful and reflective person, one who observes and listens carefully to others, qualities which enhance his poetical technique and which also serve him well as the editor of the literary periodical Mondo Greco (
http://www.mondogreco.com
) and as the Director of the Press Office at the Consulate-General of Greece in Boston, Massachusetts. When interviewed, however, this soft-spoken poet makes modest claims of his multivariate accomplishments, deflecting attention from his published works and from his diplomatic and speaking career. Yet, he is a much sought-after speaker in the United States, presenting lectures on such topics as the works of Cavafy. In 2003 alone, he traveled the breadth and depth of the nation, speaking at academic institutions in Michigan, Massachusetts, Florida, and the West coast, among other areas.
His literary journal, too, has received positive reviews from readers, critics and contributors. Since its inaugural volume in 1999, Mondo Greco has published the works of some of the most distinguished figures in contemporary Greek and Greek-American literature, including Nanos Valaoritis, Kiki Dimoula, Katerina Anghelaki-Rooke, Edmund Keeley, Thanassis Valtinos, Jeffrey Eugenides and Olga Broumas. This fine magazine is produced twice yearly, covering fiction, travel, poetry, memoir, and even photography. For more information about this independently published magazine, visit its webpages at
http://www.mondogreco.com
.
Born in Tinos, Greece in 1944, Dino Siotis has published seventeen books of fiction and poetry in Greek and English. He is the founder of Wire Press and the publisher and editor of eight political and literary magazines in San Francisco, New York and Athens. Siotis regularly contributes articles on communication and the arts and book reviews in TO VIMA, an Athens daily. He studied Law at Athens University and Creative Writing at San Francisco State University. Currently he is the Press and Communication Counselor at the Consulate General of Greece in Boston. Prior to that, he was appointed to the Embassy of Greece in Ottawa and to the Consulate General of Greece in New York. He edits
Mondo Greco
, a Greek literary magazine in English.

HCS readers may view other articles by or about him: "Foreign Territory, by Dino Siotis" (http://www.HellenicComServe.com/foreignterritory.html); "Dino Siotis to Lecture on the Life and Work of C.P. Cavafy" (http://www.HellenicComServe.com/dinosiotislecture.html); "Mixed Grill or Grab Bag? A Review by Dino Siotis" (http://www.HellenicComServe.com/mixedgrill.html); "Panayia of Tinos: A Presentation by Dino Siotis at St. John the Baptist Church of Boston" (http://www.HellenicComServe.com/panayia.html).

Posted July 2004