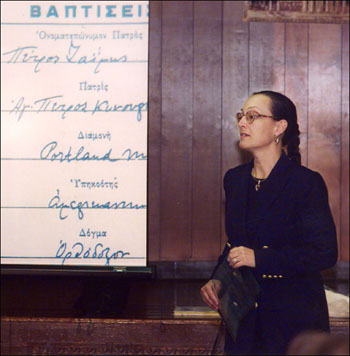 Mary Papoutsy, Founder of Hellenic Historical and Genealogical Association, discusses Orthodox ecclesiastical records with workshop participants in Haverhill, Massachusetts.
Portsmouth, NH --
Hellenic Historical and Genealogical Association (HHGA) offered two free introductory workshops recently in Massachusetts. The Dormition of the Virgin Mary Greek Orthodox Church of Somerville hosted the first workshop on Saturday, April 19, arranged by Carol Poulos Salvo. The second introductory session took place at Holy Apostles Sts. Peter and Paul Greek Orthodox Church in Haverhill on Saturday, May 3, 2003, with refreshments provided by the Philoptohos guild of the parish.
Led by HHGA founder Mary Papoutsy, participants explored introductory-level topics and received packets of articles and handouts produced by HHGA and Rock of Ages Corporation. The workshop was specially designed for research into Hellenic ancestry, focusing on two key goals: finding the full, original Greek name of one's immigrant ancestor and the name of his or her ancestral village. Papoutsy introduced a five-step plan for locating th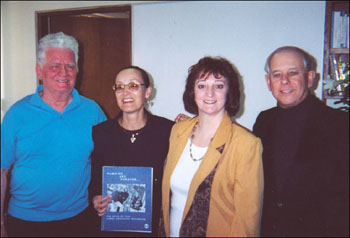 President of Parish Council of Dormition of the Virgin Mary Greek Orthodox Church, Mr. Frank Gianoukos, Mrs. Mary Papoutsy, workshop presenter; Mrs. Carol Poulos Salvo, workshop organizer; Mr. Christos Papoutsy.

ese Greek names, beginning with a careful search of data in the U.S. The final portion of the workshop centered on research in Greece, with techniques for locating information and a display of a Greek village registry.
Incorporated in the state of New Hampshire in 2000 through a grant from the Christos and Mary Papoutsy Charitable Foundation, this non-profit organization seeks to promote interest in Hellenic ancestry and history. The mission of HHGA is to provide educational resources and support for research in Hellenic genealogy and history. Lectures, conferences, workshops, and volunteer projects are mong the activities of this group.
HHGA has produced a number of educational articles and maintains a website hosted by Hellenic Communication Service at
http://www.HellenicComServe.com/genealogy.html
. The next introductory workshop is scheduled to be held at Ipswich Public Library on Wednesday, May 14, 2003 from 8:00-9:30 PM . Membership is free and open to all interested persons. For more information about HHGA, contact the organization at PO Box 710, Rye Beach, NH 03871 or at
HellasGenealogy@aol.com
.