On a balmy summer afternoon, seaside Newburyport is a destination location for tourists and New Englanders alike. Quaint brick stores donning colorful flower boxes line both sides of the streets. Shady cobblestone side streets pass by scores of beautifully restored Federal-style homes. After walking through the magnificently planned downtown area, visitors usually stroll along the riverside boardwalk, boat-watching, breathing in the fresh salt air, and observing families together on a summer outing. There are few places more quintessentially New England than this.
Newburyport has a centuries-old tradition of seafaring, of a booming seaport where exports and imports passed hands. Goods from exotic locales found their way to this port as readily as products from inland towns. Oriental carpets could be found alongside Shaker boxes in distinctive homes. This blend of foreign and local goods imparted to Newburyport some of its colorful and urbane milieu in bygone centuries.
In a New England town that prides itself on traditions, visitors today can still find a rich and diverse array of merchandise for sale in downtown shops, reminiscent of former seafaring trade. One shop offers nautical items, another fine children's clothing, another antiques, yet another, newspapers from across the Eastern seaboard. Restaurants of every sort abound, delighting the palate with wafts of delicious aromas.
But, one of the best and most colorful stores in town—for me—is Tina's European Fashions. No trip to Newburyport would be complete
without a stop there. For this store is filled with Greek items, from music CDs and gifts, to clothing and gourmet food products. A rich diversity of items appears artfully displayed to beckon patrons. As one enters this treasure-trove, lively Greek music snares the heart, much like the Sirens of Homeric epic.
\And when the proprietor, Tina Klidaras, spots me, I am greeted with a squeal and a huge hug. "Kalosorises!" "Pos eisai?" and "Pos einai o Christos?" ("Welcome! How are you? How is [your husband] Chris?") follow in rapid succession. Even though we are good friends, I know that her smile and vivacious manner are legendary among customers and acquaintances. For it is her honesty, hospitality, and unsurpassed service that win her many repeat customers.
Marketing professors could learn something valuable from this shrewd businesswoman; she's been in business for more than 25 years—all of it successful. Not only does she manage her Newburyport store, but she also handles all the leases and business matters for her properties on an Aegean island of Lesvos. Each year, she travels several times to Greece to restock her store inventory and to oversee business affairs.
She has a sharp eye for clothing and selects judiciously from Greek products to stock her store. Greek sweaters, hats, slacks, skirts, shirts,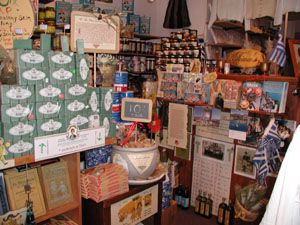 blouses, and T-shirts all grace racks in Newburyport. Display cases sparkle with Mediterranean-style contemporary jewelry. Greek art and religious icons fill the shelves on the walls. Today, she points out one of her favorite pieces, a statuette of Demeter, the Greek goddess of agriculture. Flanking the main door is one of my favorites, a beautifully designed poster of Greece. Another case holds Greek cookbooks, reference and language-learning books, along with greeting cards. A massive hoard of the latest Greek music CDs occupies the back section, just behind the displays of Greek "stephana," or wedding crowns, other traditional christening items, and "koumboloi," or worry-beads. Another section has been dubbed affectionately the "little Greek village," with gourmet food products from throughout the country. Here one finds spices, olives, olive oil, stuffed vine leaves, roasted chick peas, Greek coffee, orzo and other pastas, lentils and grains, fruit preserves, soaps, and much more.
My mind teems with endless gift-giving possibilities for relatives and Greek friends. Not a few times have I left Tina's store with an armload of treasures to fill a basket or decorative box.
But, more than the providing the enjoyment of purchasing gifts, Tina and her store evoke visits during my childhood to the homes of my grandparents, especially my "yiayia" (grandmother) Kalliope. If my Yiayia was not baking some delicious
Greek dish or pastry, then she was enjoying a cup of thick Greek coffee prepared on her stovetop in a small, brass, long-handled "cup." The sights, smells, and sounds of the store thus recreate the ambience of a Greek-American home, facilitating a fond recollection. Tina's shop also creates yearnings in my heart to see my Greek cousin, Maria Manolakou, and her brothers and children in the Maniatika section of Piraeus, people whom I love and miss very much. They are the living embodiment, for me, of another, cherished era with my grandparents.
The trip to the store, I decide each time, is worth it just to inhale the delightful aromas from the "little Greek village" corner. For every visit transports me for a little while into the embraces of my loving, long-departed grandparents and to their ancestral homes in Greece, to the sunny and hospitable islands of my dreams where history, legend, and reality all intersect to snare my heart. Newburyport, I think, is the perfect place for such store—a town with a strong and long-standing tradition of carrying sailors with wandering hearts to exotic locales.
---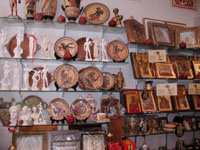 Tina Klidaras is a proud US citizen and long-time resident of Newburyport, but a native of Lesvos, where she and her family still own property and olive groves. An active member of the local Annunciation Greek Orthodox Church community, she regularly offers her time and talent by preparing traditional "prosforo" bread for the Divine Liturgy and by other devotional tasks. She is the proud mother of two sons and three grandchildren. Her US store, Tina's European Fashions and Greek Imports, is located on 30 State Street in Newburyport, Massachusetts. Hours run 10:00 am to 6:00 pm Monday through Saturday and 1:00 to 6:00 pm on Sunday. In addition to the imported goods mentioned above, the proprietor offers custom-designed and hand-made wedding and christening favors and adornments for sacramental candles. Businessperson par excellence, Mrs. Klidaras can accommodate phone and fax orders and ship throughout the country, both regularly stocked items and custom orders: (tel.) 978-462-7043; (fax) 978-463-9393.