World's Greatest Athlete Is Greek-American Tom Pappas
---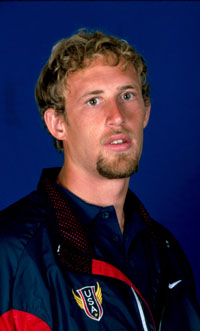 Tom Pappas

By Mary Papoutsy
Hellenic Communication Service

Although his personality is reserved, this towering track and field athlete has just earned the title of World's Greatest Athlete, an epithet which has filled his dreams for years. A native of Oregon, Pappas gives much of the credit for his success to his supportive and sports-minded family.

In fact, Tom isn't the first noted athlete in his family. He is quick to point out that his grandfather, who had also competed in the decathlon, was a semi-professional football player until he suffered a neck injury and switched to wrestling. His father, Nick, was the crew chief for a land-speed record set at Utah's Bonneville Salt Flats. And both of his brothers also competed in multiple sports. A writer for the AHEPA Hellenic Heritage Foundation, Chris Mellas, indicated in 2000 that the three Pappas brothers, Paul, Tom, and Bill, held the world record for three brothers in the decathlon with a combined top score of 22, 558.

Tom's entry into Track and Field took place after watching his older brother Paul compete at the University of Oregon. The following year, when Tom enrolled in Lane Community College, Tom began his soaring career in the decathlon. The rest, as most sports fans know, is history.

Nearly 27, Tom has won the IAFF World Outdoor Track and Field Championships in Paris, France this year, defeating defending champ Roman Sebrle of the Czech Republic in the 2-day, 10-event competition. With this latest victory, Pappas has surpassed records set by the legendary athlete Dan O'Brien and has become only the second American to win the World Championships.

With this victory at the Stade de France, Pappas sets his sights on the Olympics next year in Athens. It will be a homecoming of sorts for him, since his great-grandfather emigrated to the U.S. from Athens. Tall and blond, he reveals that most people think he doesn't look Greek. But that hasn't stopped the flood of emails from Greece, according to him, from people asking him questions. If this popular interest in him is a reliable indicator, then he is likely to be one of the favorites next year at the summer games.

In addition to the world championships, Pappas has an impressive record of wins to his credit: 2000 Olympic Trials Champion; 5th in the 2000 Olympics; 2-time USA Outdoor Champion (2002 and 2003); 2003 World Indoor Heptathlon gold medalist; 1999 NCAA Champion; 1999 US runner-up; 1995 Pan-American Junior Champion. While a student at the University of Tennessee, he was named GTE Academic All-American with a GPA of 3.83; he earned All-American in 1997 with the 19th best decathlon score in the country.

Pappas continues his grueling training schedule for the upcoming Olympics. His former collegiate coach, Bill Webb, works with him regularly in Knoxville, as he trains 6 days a week, 5-6 hours daily, with double sessions twice weekly. The regimen splits between technical and strength aspects, but Pappas has added a stronger endurance component to it to help his 1500-meter run.

But Pappas doesn't mind all the attention that his recent magnificent wins have garnered. He's delighted to be considered the front-runner and favorite at the 2004 games and feels that he's up to the next challenge. Winning is not "all Greek" to Tom, but in the genes. Although a fourth-generation Greek-American, Pappas is cognizant of his ancestral heritage and proud of it.