On August 15th, at the Transfiguration Church in Mattituck, N.Y., a donation of an epitafio (holy tapestry representing the tomb of the Virgin Mary) was presented and blessed in a unique ceremony. George and Irene Moustakos of Astoria and Mattituck, New York donated the epitafio. The blessing of the Virgin Mary's tomb was witnessed by over three hundred persons.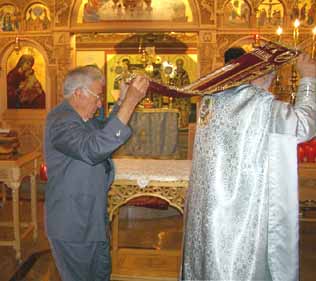 George Moustakos (left) participating in
the blessing of the Holy Tomb tapestry
(epitafio) by Rev. Marketos, parish priest
before three hundred persons.