By
George Gilson

Athens accepts UN mediator Matthew Nimetz's latest proposal as a basis for talks, while sceptical Skopje back tracks on a possible referendum
ATHENS and Skopje have about two weeks to respond to the latest UN proposals for resolving their dispute over what the Former Yugoslav Republic of Macedonia (Fyrom) will be called.

UN mediator Matthew Nimetz, in Athens on February 19-20, presented the two sides with what he later depicted as a "compromise" proposal that he said would completely satisfy neither side.

Nimetz, who repeated that the problem is "crying out" for a solution, remained a sphinx on the details. Greek Foreign Minister Dora Bakoyannis said that Athens views the proposal as a good basis for negotiation, and she briefed President Karolos Papoulias, the inner cabinet and then all opposition leaders on February 20.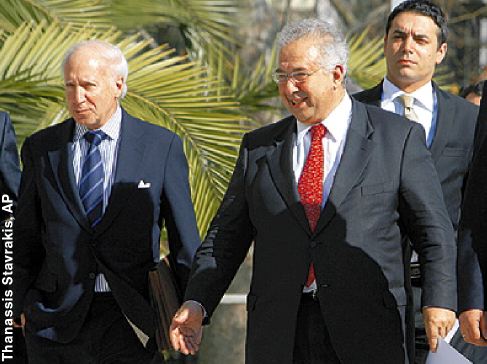 UN mediator Matthew Nimetz (L) and UN ambassadors Adamantios
Vasilakis of Greece (R) and Nikola Dimitrov of Fyrom (background) arrive
at the Greek foreign ministry in Athens on February 19

AThe next day the daily To Vima reported that the five names tabled are Constitutional Republic of Macedonia, Republic of Upper Macedonia, Democratic Republic of Macedonia, Independent Republic of Macedonia and New Republic of Macedonia. Of these, only the "Upper Macedonia" option vaguely meets Greece's demand for a composite name with a geographic marker.

The Greek foreign ministry, which condemned the leak of the proposal, said it sent Nimetz its "reservations, notations and proposed changes" on February 21.

The proposal requires Skopje to use the new name - which will be adopted by the UN Security Council - in international organisations, in all treaties, in conventions and agreements, as well as on the country's passports (which was a key concern for Athens). The UN would urge, but not require, use of the new name in bilateral ties.


The key sticking point for Greece is any restriction of the use of the word Macedonia to describe Greece's northern province, which was the heart of ancient Greek Macedonia. On that score, one of the provisions needs clear interpretation. The leaked proposal limits the use of the word Macedonia by and within the two countries, in accord with international law on contracts and on using geographic names for commercial or similar reasons. That could mean requiring Athens to change the name of the Greek province of Macedonia, which would cause an uproar.

The proposal says no country would have exclusive political or commercial rights over the name "Macedonia" or "Macedonian".

The proposal provides that Greece would undertake to support Skopje's application in Nato, the EU and other international or regional organisations.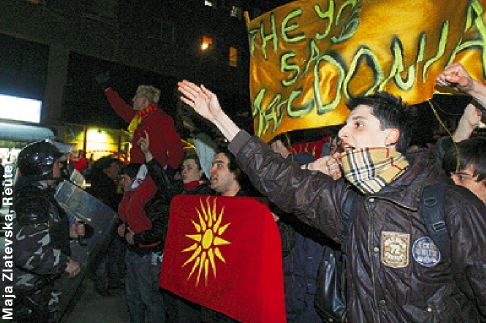 A riot policeman stands in front of protesters near the Greek embassy in
Skopje on February 19. A few hundred youths demonstrated in front of the
Greek embassy to demand that no changes are made to 'Macedonia' name
The Nato race

A riot policeman stands in front of protesters near the Greek embassy in Skopje on February 19. A few hundred youths demonstrated in front of the Greek embassy to demand that no changes are made to 'Macedonia' name

The proposals are widely seen as part of a diplomatic race to avert a Greek veto of Fyrom's Nato membership invitation on April 2.

Nimetz told the Athens News that the importance of Nato enlargement is "a dimension affecting everyone's thinking on this", but said his role as UN mediator is dissociated from that.

"I think this is a really opportune time to resolve the issue, so I hope we can do it," he said.

Nimetz said the governments of both countries "truly want to get this behind them", and he suggested he would work even beyond the Nato summit.

US Ambassador to Greece Daniel V Speckhard, in a February 20 speech to Republicans, urged Greece to seize on the Nimetz proposal and denied reports that the US fashioned it. Arguing that the April Nato summit is a "perfect opportunity to try to push the process forward", the US envoy stressed that "the longer it drags on, unfortunately things have not gotten better in terms of Greece's interests in this process".

Facing the cameras, Bakoyannis called Greece's northern neighbour a "proud and dignified people" and declared that the Greek people are "an honourable people who have known suffering and been acquainted with grief".

"I'm going right back to my capital, and I intend to present both the proposal and the qualifications that we received from the mediator," the Fyrom negotiator, Ambassador Nikola Dimitrov, said after the 25-minute meeting. "I know the leadership of the Republic of Macedonia will focus on it with due attention. It's a very important moment. We're going to analyse it and consider all the implications and obviously the leadership will make a decision."

The same night, several hundred demonstrators, opposing any change to the country's name, gathered outside the Greek Embassy in Skopje, hurling stones, bottles and lewd epithets to protest the latest UN effort to reach a compromise.

Fyrom PM Nikolai Gruevski initially suggested he might put the matter to a referendum, saying that anything that is against national interests will be rejected. But he promptly ruled out that option on February 21, suggesting that Nimetz's proposals were too far from anything Skopje will accept.

Leaky politics

But Pasok had already unleashed an attack on the government's handling of the name dispute the day Nimetz presented his plan. MP Panos Beglitis, expressing Pasok's position, called for the government to veto Fyrom's Nato entry if Skopje does not accept a name change in all relations, including bilaterals, a condition apparently not met by the Nimetz proposal. Beglitis called for a "unified, composite name for all uses that will express the geographic reality of our broader region".

Greece, until now, has flatly refused any solution under which the new name is used in international bodies but not in all of Skopje's bilateral ties, and all Greek opposition parties are now insisting on this.

Communist KKE general secretary Aleka Papariga also objected to a dual name and insisted on the composite name including a geographic marker, such as "northern" or "upper Macedonia", suggesting that any other solution leaves open possibilities of irredentism.

Left Coalition leader Alexis Tsipras supported a composite name with a geographic marker, but LAOS leader George Karatzaferis called for a referendum.



In a key provision for Greece, the proposal calls on the parties to denounce any territorial claim on each other. A joint committee would examine cultural and educational issues.