When requesting death certificates, you may be surprised by the "depth or dearth" of information recorded. Death certificates were not always required and were rare before the late 1800s.

Early information is reconstructed from a variety of sources--manuscript books, civil registrations, cemetery records, parish records, etc. Town clerks or recorders issue certificates from available information, which often lacks genealogical details, such as a surviving spouse, parentage, cause of death, and burial location.

This example from 1810 shows Seth Wilder, Jr.'s death in Cummington, Massachusetts, and little else. When ordered in 1965, a similar death certificate would typically include parental names, birth places, and occupation, which were all left blank on the 1913 form.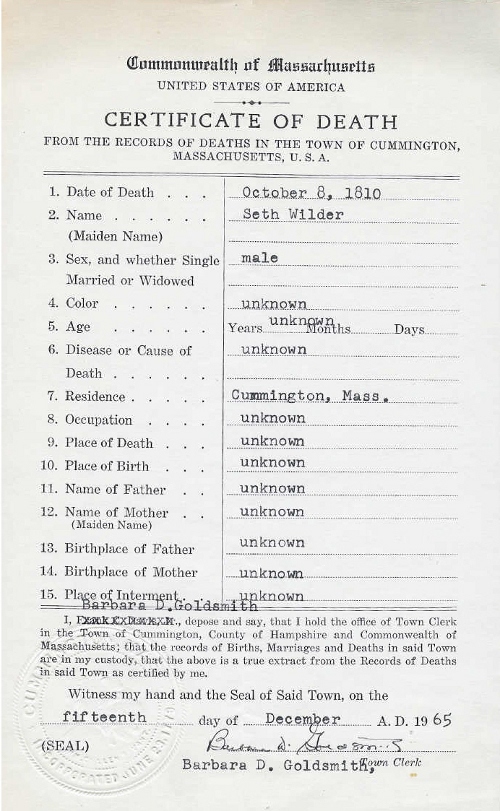 Until recently, each location, whether it be a country, state, county, or city, followed its own format. In 1961, the State of New York furnished this numbered certificate for Rev. Zerah T. Hoyt, certifying his death in Saratoga Springs on August 29, 1901.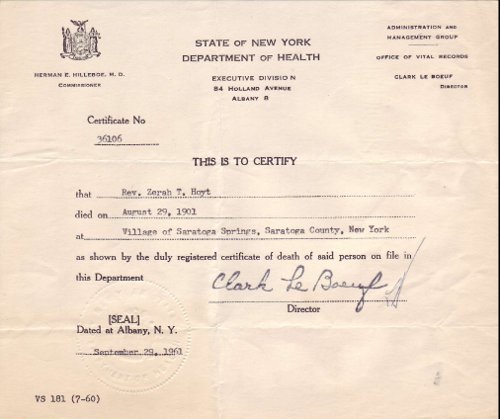 In 1917, Duval County, Florida required an address, age at death, informant, and place of burial or removal. In the case of John Thomas Wilder, who died on January 31, the informant was his second wife, Dora (Lee) Wilder, recorded only as Mrs. John T. Wilder. The document noted he was returned to Chattanooga, but did not specify the cemetery, which was Forest Hills.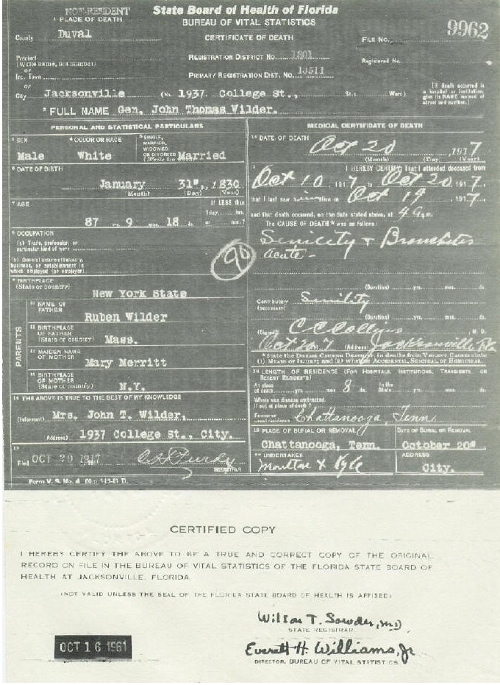 Death certificates evolved over time and now display more than thirty details, including military service, social security number, and education. (See Form PHS-T-003 from the Center for Disease Control and Prevention).
Decedent's name
Sex
Date of death
Social Security Number
Age
Birthplace
U.S. Armed Forces?
Place of death
Marital status
Surviving spouse (if wife, give maiden name)
Occupation
Residence
Hispanic origin?
Race
Education
Father
Mother
Informant's name / address
Method / place of disposition
Signature / license of funeral service
Name and address of facility
Signature, pronouncing physician, and date signed
Time of death
Date death pronounced
Referred to medical examiner / coroner?
Diseases, injuries, or complications that caused death
Autopsy?
Manner of death
Date, time, description and place, if injury
Certifier or certifying physician, license, date, and signature
Name / address of who completed cause
Registrar's signature
Date filed
But wouldn't it be nice if in the next generation of death certificates, genealogical data was expanded? I, for one, would like to see surviving children, number of marriages, living and recorded will data, and the relationship of the informant to the decedent!

A death certificate is not primary proof for a decedent's birth or parentage, so seek confirming documents. Remember items "recorded" at the time of the death, such as the date and cause, are primary sources, but those "reported" later by an informant are secondary.
To determine the veracity of the reported items, identify the informant. The closer the familial relationship, the more likely the accuracy.
If parentage is not identified, cross reference with a sibling. Granville Harrell's mother was not identified on his certificate, but it was on his brother William's.

If a female informant's surname differs from the decedent
Adoptive parents can be erroneously indicated as birth parents. The parents of Edgar Hanks Evans, nee Edmund Hanks, were reported as George T. Evans and Mary Robertson Evans, whereas his birth parents were Jesse Turner Hanks and Mary Jane Olmsted.
Cross reference causes of death with current terms. Shaking palsy, for example, may indicate Parkinson's disease. (See RootsWeb's Medical Genealogy Mailing List for tips.)
Burials may be recorded by a town name, and not a cemetery, and since town names change, do your homework.
When ordering death certificates, you can save time by using a service, but you can save money by ordering directly from a registrar.
Some states centralize ordering at the state level and others at the locality where the death occurred. If a county name changed, verify before sending money to the wrong location, as refunds may not be issued.
Collect certificates as soon as possible, as costs are increasing and privacy laws may affect your right to order.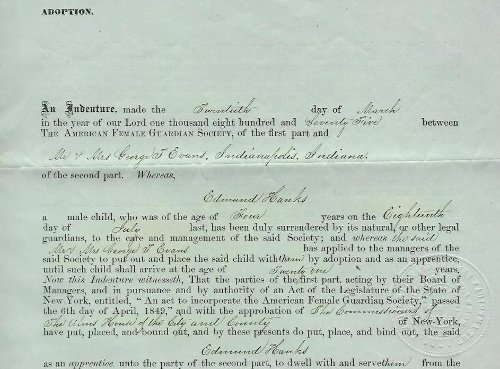 Some excellent sources for finding death records and information are
RootsWeb's Death Records Database. This has a variety of search options, and readers are welcome to contribute their research via a text file or Excel database.
Ancestry.com at www.Ancestry.com, a subscription service with multiple indexes to death records and some original death certificates.
The Church of Jesus Christ of Latter-day Saints (LDS), which has a free pilot website and their main web site. The pilot includes original, digitized records, while the main site has links to family trees and records stored at family history centers around the country.
England and Wales's Free BMD (Birth/Marriage/Death) database, which is part of the FreeUKGen family. This database includes an index to many of the death records kept by the English and Welsh governments since 1837.
Search engines or Google Books.