For more news, analysis and
features from the Athens News,
visit http://www.athensnews.gr
Hellenic Communication Service, L.L.C. provides links to
Greek News Sources.
Click on the links
below to visit
their sites.

---

Athens Photo News

---

---

---

---

---

---

---

---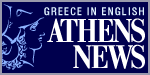 Last Rites for Olympic Airways?

By Harry Papachristou, Athens News
Reprinted By Permission

THE GOVERNMENT is orchestrating a last-ditch effort to save Olympic Airways, the country's cash-strapped flag carrier from bankruptcy, following abortive efforts to sell it to private bidders.

The broad outline of the government's plan was unveiled on February 21 after a cabinet meeting. It envisages the splitting of Olympic Airways into two parts: New Olympic, which is to continue aviation operations free from debt, and a holding company which will assume all of OA's liabilities and incorporate the group's non-core assets.

New Olympic faces the prospect of sudden death, unless private investors drum up an estimated 100-150 million euros to back up the plan. The government's privatisation adviser, Credit Suisse First Boston, has been ordered by the government to start looking around for new shareholders.

Approval by the European Commission is also a precondition for the plan. Brussels has made it clear that it will not tolerate any new state aid for Olympic.

On February 16, Communication and Transport Minister Christos Verelis cancelled OA's ongoing privatisation tender due to lack of finances on the part of Integrated Airline Solutions (IAS), the last remaining bidder.

New Olympic to continue flying

New Olympic is to incorporate all the airline's aviation subsidiaries (OA, Olympic Aviation and Macedonian Airlines). It is still to be majority-owned by private investors, Economy and Finance Minister Nikos Christodoulakis told reporters after a cabinet meeting. Verelis said that new investors must be found within two months.

A radical rationalisation drive will ensure New Olympic's profitability, according to daily To Vima. The main recipe seems to be through axing the airline's loss-making inter-continental flights. "Olympic will become a regional airline," Verelis said on February 21.

Flights to Australia (costing the airline 23 million euros annually), Canada and South Africa are most likely to be discontinued. The flight to New York may survive, being OA's only profitable overseas route, analysts told the Athens News.

The government is reportedly also planning cutbacks on the airline's European flight schedule, notably to Germany. The Zurich route will also likely be scrapped.

The government reportedly hopes that all these reductions will enable the company to dispose of some its aircraft (around 10-15), down from the current 60. This would secure New Olympic some much-needed funds to get it going.

The government is also expected to attempt to renegotiate the airline's current aircraft leasing deals. According to Grigoris Kostantellos, the president of OA's pilots' union, Olympic pays constructors 30 percent more than the going market rate.

The government said it would shed 2,000 jobs on Olympic's payroll on a voluntary basis and over a five-year period. OA's employees' union, however, rushed to declare that it would not accept any modifications to existing labour agreements. Employees already held warning work stoppages.

Observers doubt whether Olympic could survive a large-scale strike prompted by a government attempt to put employee contract terms on a new footing.

Old Olympic ripe for sell off

OA's accumulated debt, estimated at 150 million euros, will be passed over to a separate, loss-making part of Olympic. It is to include all the group's remaining assets, namely catering, handling and technical services.

Part of the money to keep New Olympic afloat will come from a bit-by-bit sell off of these assets within a two-year period. Olympic Catering owns a lucrative franchise for the 2004 Olympic Games but is currently running at a loss. OA's aircraft maintenance operation is also known to be of a high quality but Olympic employees say it is seriously understaffed.

Will the Commission play along?

"There is no objection of the Commission per se when companies are split into one debt-free and one debt-laden part," Gilles Gandelet, a deputy to European Transport Commissioner Loyola de Palacio, told the Athens News. "Of course, one should examine whether the way this is being done does not fall foul of European Union rules on fair competition," he cautioned.

Gandelet refused to comment on reports in the Greek media that a European Commission delegation, prompted by complaints filed by OA rivals, will arrive in Athens on February 27 to examine whether the Greek government unlawfully subsidised Olympic Airways.

In the 1990s, the Commission twice approved the granting of subsidies to Olympic Airways, but it attached several strings to the hand-outs. Both times, however, the Commission later found that the Greek government had flouted the rules.