ANNOUNCEMENTS


Post Your Baby's Christening on the Hellenic Family Page

Hellenic Communication Service welcomes news of christenings from our visitors. So we can prepare your christening news for posting on the Hellenic Family Page, please fill out our convenient online form.Photos and information can be postal mailed to HCS at: Hellenic Communication Service, P.O. Box 6748, Portsmouth, NH 03801. Or you can e-mail us your digital photos.

You may also provide us with the e-mail.addresses of friends and relatives, so we can e-mail them the entire posting of your christening.


Father Saravelas Welcomed by Newburyport's Annunciation Church

Newburyport, MA --

Reverend Father Kyriakos V. Saravelas has been assigned by his Eminence Metropolitan Methodios as Pastor of the Annunciation Greek Orthodox Church of Newburyport, MA. Prior to this recent assignment, Father Kyriakos, or Father Kerry as he likes to be called, held the position as Dean of St. George Greek Orthodox Cathedral in Springfield, MA for nine years and Pastor at Dormition of the Virgin Mary Greek Orthodox Church in Somerville, MA for a period of six years.

Father Kyriakos has a attended the Graduate School of Social Service Administration from the University of Chicago, Chicago, Ill. where he earned a Master of Arts degree, the School of Theology from Aristoteleion University of Thessaloniki, Greece where he earned a Certificate in Theology, the Holy Cross Greek Orthodox School of Theology, where he earned a degree in Theology, in Brookline MA and the National Institute of Mental Health Fellowship, the University of Chicago, Chicago, Ill.

"We are very proud and honored to have Father Kyriakos and Presbytera Sophia with us," stated Parish President Ted Mountzuris, "and look forward towards continued growth of our Parish with them."

A Son's Eulogy to His Father

It is difficult for me to tell you how much my Father meant to me. He was such a wonderful person -- full of love, full of life. Full of such deep emotions -- of caring and compassion. Of true qualities so seldom found. More

Haralambos Psilos Baptized

Christos and Cornelia Psilos of Middletown, Rhode Island celebrated the baptism of their son Halambros in a ceremony held October 28th, 2001 at Saint Spyridon Greek Orthodox Church in Newport, Rhode Island. Halambros was baptized by godparents John and Joanne Psilos. The officiating priest was Father Anthony Evangelatos.
Complete Story and Photos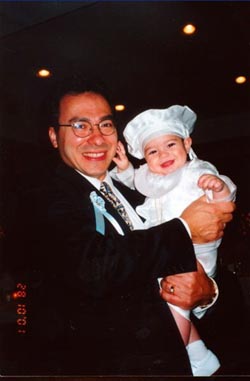 St. Catherine's Greek Orthodox Church Announces Christenings

St. Catherine's Greek Orthodox Church in Wollaston MA joyfully announces the baptisms of Vanessa-Anastasia, daughter of Christina and Frank Kehayias, and of Marina-Alexia, daughter of Theodora and Stavros Retzos. Both ceremonies were held on October 21, 2001.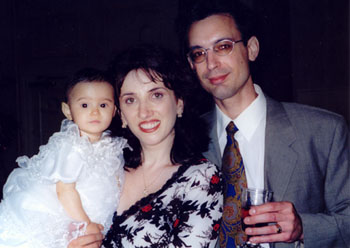 Anastasia Kapothanasis Baptized in Portland, Maine

On Sunday, September 9, 2001, Anastasia Kapothanasis was baptized by her aunt, Agathi Haxhi, at Holy Trinity Greek Orthodox Church in Portland, Maine. She is the daughter of Anastasios and Valentina Kapothanasis and the granddaughter of Mr. and Mrs. Charles Kapothanasis and Mr. and Mrs. Aquilla Haxhi, all of the greater Portland area. Father Constantine Sarantidis officiated.



Many family members and friends attended this occasion, filling the church. Assisting Godmother Agathi were several young nieces and nephews; the children solemnly walked about the baptismal font holding candles as Fr. Sarantidis and the other participants carried Miss Anastasia.



Following the ceremony, all guests were invited to attend a festive dinner reception at the Holiday Inn by the Bay in Portland. Delicious food abounded. Capping the dinner was a lovely pink-and-white, multi-tiered cake and homemade Greek pastries. Godmother Agathi spoke very eloquently about the added significance of holding a baptism on Grandparents' Day, as well as the special joy the entire family has derived from Anastasia since her birth ten months earlier. The Kostas Taslis Orchestra provided Greek music, with one song dedicated to Miss Anastasia. Lively dancing by the guests continued for some time, marking this special baptismal celebration on Grandparents' Day.

Congratulations to the parents, godmother, and grandparents! Na ekatostisi to pethi!