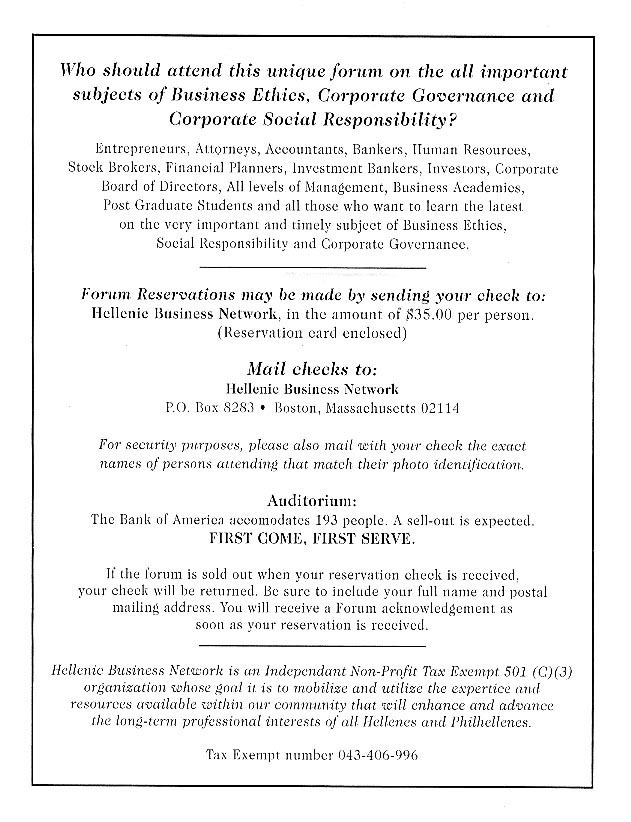 ---
Hellenic Business Network (HBN) is an independent nonprofit, tax-exempt 501(c)(3) organization whose goal is to mobilize and utilize the expertise and resources available throughout the community that will influence and advance the long-term professional interests of all Hellenes and Philhellenes. Fore more information about Hellenic Business Network, the host of the upcoming ethics forum, visit the organization's website at the URL http://www.hbngroup.org or contact them at 888-251-5568.

For more information about the Christos and Mary Papoutsy Charitable Foundations, see the About Us section of Hellenic Communication Service at the URL http://www.helleniccomserve.com/aboutus.html or at the URL for the academic chair in ethics at Southern New Hampshire University (http://www.snhu.edu/papoutsy.html).

Readers interested in the topics of ethics, and especially business ethics, may wish to read other articles in the extensive, permanent archives of HCS under the Business Ethics section (http://www.helleniccomserve.com/contents.html#Business Ethics).


---