SUMMER'S TOP MOVIE PICK FOR GREEK-AMERICANS: "MY BIG FAT GREEK WEDDING"

---
By Christos and Mary Papoutsy
Publishers of Hellenic Communication Service
---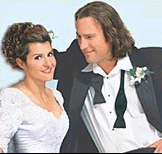 Nia Vardalos and John Corbett star in My Big Fat Greek Wedding

If you can see only one movie this summer, make it "My Big Fat Greek Wedding." Run, don't walk to the theatre, and take all of your relatives! Greek-Americans will laugh throughout this entire film at the hilarious and sometimes subtle comedy about growing up in an ethnic family in the U.S.
Nia Vardalos, the Greek-American star of the movie, plays the role of a 30-something daughter --Toula Portocalos --of an immigrant Greek couple who own Dancing Zorba's Greek Restaurant in Chicago. Of course, mousy Toula works in the family restaurant, but wishes for more than what her family expects. Rather than marrying a nice Greek boy, bearing Greek children, and feeding everyone, Toula wants to attend college classes.
How Toula and her mother conspire to receive her father's approval for the classes will send Greek-American women into an uproar. Lainie Kazan who plays the role of Toula's mother, delivers a great one-liner: in Greek families, men may be the head of the household, but women are the neck and can turn the head any way they want. Toula and her mother succeed and Toula takes classes.
But Toula's efforts pay off in other ways. Her self-esteem rises, and she transforms herself, with the aid of cosmetics and an updated wardrobe, into a veritable Greek-American princess, waiting for her prince to sweep her off her feet. Enter Ian Miller, played by John Corbett of TV's Northern Exposure and Sex in the City. And they do fall in love, unknown to her family. The only problem is that he isn't Greek.
The comedy reaches a zenith when Ian Miller, now her steady boyfriend, asks her to marry him and she brings him home to meet her family. As expected, the father (Michael Constantine) flatly refuses. But viewers will roar with laughter, recognizing the old-fashioned, steadfast refusal of the father to accept this young man from a very traditional, Anglo-Saxon family. Papa, who believes that all knowledge emanates from the Greeks, attempts to introduce Toula to a succession of unsuitable suitors, in an effort to stave off the inevitable.
Eventually, Toula wins out and her family relents. But not before a series of hilarious scenes in the church, as Ian becomes baptized in a children's swimming pool, and when Ian's parents first meet the Portocalos family. Even Toula's old Yiayia, who doesn't speak any English and who thinks that the Greeks are still fighting the Turks, yields at last. True love prevails and Toula's family welcomes and envelops the fine insider into their fold; the couple become part of the extended Portocalos family, a fine ending for this funny, heart-warming story of love.

Most movie reviewers around the country have given this film an above-average rating, with such comments as: "warm-hearted in the way a movie can be when it knows its people inside out" (Chicago Sun-Times); "ends up as a big, fat, happy occasion" (E! Online); "you don't have to be Greek to chuckle at the affectionate jabs Vardalos aims at her loving, smothering family" (Los Angeles Times); "an amiable, offhanded comedy about ethnic identity and and last-chance romance" (New York Times). But the Chicago Tribune -- quite wrongly in our opinion -- remarked that it was predictable and dull.
We believe that this movie will be best appreciated by Greek-Americans who grew up with Greek immigrant parents or grandparents and who lived alongside a significant non-Greek population. Toula's struggle with her ethnic identity as she reaches maturity and builds a life for herself will resonate with Greek-Americans who have themselves grappled with the issue of cultural disparity between their own families and those around them. Many a youngster of Greek background has experienced the "otherness" or alternity of being different, a process clearly highlighted in this movie. Furthermore, statistics gathered recently by the Greek Orthodox Archdiocese of America also bring to light the full extent to which "outsiders" or "xenoi" have become integrated into Greek-American families. The vast majority of marriages today are to spouses who are not Greek Orthodox, indicating, of course, that the process of welcoming a non-Greek into a Greek-American family is commonplace.

Recent arrivals in the U.S., however, Greek immigrants arriving in the 50s or later, may not have experienced the same sort of alternity as the offspring of earlier immigrants at the turn of the century, and so may not find the cultural clashes as representative of their own experiences. Today, ethnic sensitivities and efforts to educate students about multiculturalism in our public schools have made inroads into general awareness about other cultures. As a result, young students or Greek immigrants living in urban areas also may not fully appreciate all of the implications associated with the cultural clashes depicted in this movie. One viewer who left comments on Eonline reinforced this notion: "Greek-Americans loved it, while Greeks (from Greece, Europe) and other Europeans, didn't seem to recognize most things about the movie as 'Greek.' "Is this whole thing made up or something, or is it just too much of a 1950s kind of thing?" Another viewer concurred: "I agree that this movie does not relate to Greeks [from Greece] . . . . in Greece you'll see that the people there are, well, a little more open-minded, the culture has been updated since the 60's and most importantly, most of [the] Greek girls are not fat, have no fixation on food or marriage. . . ." On the other hand, another person demonstrated that the cultural disparity in the movie is clearly still experienced in some areas of the country: "A hilarious movie. I never heard a theater in such an uproar. Being a recently married 30- something Greek American, I definitely identified with this movie. And yes these things are still happening today in 2000 not just the 60's."


Nia Vardalos, of Chicago's legendary "Second City" improv comedy troupe, stars in this fast-paced romantic comedy, whose script—as rumor has it—was developed out of her comic routine and later purchased by actor Tom Hanks and his Greek-American wife, Rita Wilson. Other members of the cast—aside from Vardalos—are John Corbett, Michael Constantine, Laine Kazan, Andrea Martin, Joey Fatone (of 'N Sync), Gia Carides, and Louis Mandylor. Directed by Joel Zwick, this perfectly-cast movie was produced by Tom Hanks and Rita Wilson. It runs 95 minutes and is rated PG for sensuality and language. Put out by IFC Films, the movie earned 1.1 million during last weekend, placing it in the top ten films. Unfortunately, however, its largest drawback is that it is being shown only in selected cities across the country.
More about "My Big Fat Greek Wedding"