"My Big Fat Greek Wedding": Ethnic Fun, Greek Style

---
Film Review By April Kallas Householder
---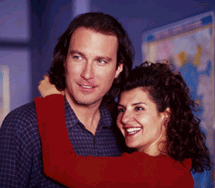 Nia Vardalos and John Corbett star in My Big Fat Greek Wedding

It's hard to believe that "My Big Fat Greek Wedding," with its large cast of eccentric characters, started out as a one-woman play. It's even harder to imagine how this small, independent film about a Greek American woman's life made it to the big screen at all. But, with a little help from Rita Wilson (Tom Hanks' wife) who saw the show and decided to produce it as a movie, Nia Vardalos' story has arrived... in a big fat hilarious way.
Vardalos stars as the timid, 30-year old, and single Toula, a waitress at her family's restaurant, "Dancing Zorba's." Faced with a childhood where being Greek wasn't exactly "in" (her classmates, at lunchtime tease, "Ew! She's eating 'Moose-caca!" when she pulls out her meal of moussaka,) Toula struggles to break out of this ethnic conundrum and find her own identity. Her father, Gus Portokalos (played by Michael Constantine) seems to have instilled a very traditional and very Greek outlook for Toula, as she states in the opening voice-over: "Nice Greek girls are expected to do three things-- Marry Greek boys, make Greek babies, and feed everyone until the day we die." Toula has her work cut out: the Portokalos' also live in a house in a Chicago suburb which is modeled after the Parthenon, complete with classical statues, and a Greek flag painted on the slats of the garage door.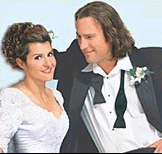 To change her life, Toula approaches her father about enrolling in a college course and working at her aunt's travel agency. When he says no, Toula's mother steps in and fixes the situation so that Gus thinks he has thought of the idea himself. In a touching scene of mother-daughter bonding, Toula's mother (Lainie Kazan) says, "The man may be the head of the family, but the woman is the neck. She tells the head where to look." With her new found independence and a confident make-over, Toula inevitably meets the striking schoolteacher who will steal her heart. Ian (John Corbett of TV's Northern Exposure) is kind, understanding, and crazy for the newly transformed Toula. There's only one problem- He's not Greek. Ian ties to fit in by learning Greek in order to compliment Toula's mother's cooking, but instead gets a bogus translation, "Oraia vissi!" He is baptized in the Greek Orthodox Church in a blow-up swimming pool and almost drowns. He even goes up against the Portokalos patriarch in an attempt to make him understand his love for Toula. Most of the film's comedy revolves around this conflict, which reaches its peak when the couple decides to get married.
The director, Joel Zwick, manages to keep a good balance of the frenetic wedding preparations with the comedy of the two families meeting for the first time. Ian's uptight and xenophobic parents, shocked by the
pandemonium at the party and the over-abundance of food, people, and ouzo, have no choice but to concede to the madness. As Toula's father remarks in his wedding toast, "Miller is originally a Greek word- derived from Milo, meaning apple. Our family name, Portokalos, means oranges. So you see, even though we are apples and oranges, together, we are all fruit!"
The film is filled out by a wonderful cast. There are a hand full of hilarious family members, including Toula's over-protective brother, who jokes to Ian that he will kill him if he hurts his sister, Toula's newly arrived Yiayia, who is approaching senility and thinks that everyone is a Turk and out to get her, and Toula's aunt Voula, with big hair and make up, and a penchant for cooking, gossiping, and dancing.
If you've ever had a big fat Greek wedding or have thought of having one, this film will resonate in your heart strings. Nia Vardalos has written an endearing story that is universal in its message. If you are not Greek, the film will have you wishing you were; if you already are, it will make you proud to come from such a colorful and rich heritage, where family, food, and fun are ultimately big fat Greek values to appreciate.