---
Unprecedented Success for Greek Film Continues

By Nicholas Eliopoulos,

The National Herald
---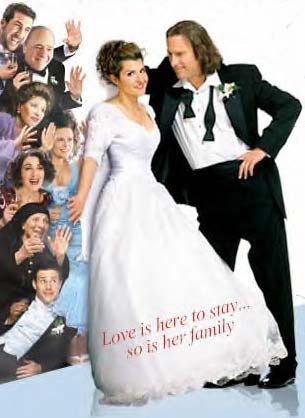 Nia Vardalos and John Corbett star in My Big Fat Greek Wedding

My Big Fat Greek Wedding
, the unexpected movie hit of the summer, has grossed over $82 million.
Nia Vardalos, the star and writer of the film, is very humble about her movie's success. "I would have been thrilled if it had just made its money back," she told the Herald. The film cost $5 million to produce, and is on its way to possibly being the largest grossing film (relative to its production cost) in movie history.
"I would have been happy if it only played in the basement of Greek Churches, but I am thrilled so many people are going to see it," Vardalos said.
The film also stars John Corbett of "Sex In The City," Michael Constantine, who does an excellent job as the Greek father, and Lainie Kazan, who despite not being Greek, turns in a great performance as the classic mother with a flawless Greek accent.
Showing to a record 1, 619 theaters nationwide, the film also opened in Athens, Greece, July 19. It is currently showing in 16 theaters around the Athens area, and has had a great box-office turn out despite the heavy rains that have plagued Athens recently. It is scheduled to open in other parts of Greece later this month. The Greek distributor there, a company called Prooptiki, said Athenians seem to get a real kick out of the picture. There is a rumor that sales of the product Windex have risen in the last two months in Athens.
"My Big Fat Greek Wedding" has not only made a star out of Nia Vardalos, who wrote the script based on her stand-up routine, but also Michael Constantine, the family patriarch, who gets big laughs in the movie when he insists that Windex cures psoriasis, poison ivy, baldness and warts.
USA Today reported recently that Therese Van Ryne, who is the publicist for S.C. Johnson, the company that makes Windex, doesn't know if there is any connection to the film, but sales of the product lately have been "fabulous."
Here in the States, "My Big Fat Greek Wedding" garnered the number two spot at the box office Labor Day weekend -- an amazing feast for a small-budget movie that has lasted throughout the summer and has gone against many blockbuster Hollywood $100 million productions. In fact, "My Big Fat Greek Wedding" holds the record for attendance gross per screen average beating Mel Gibson's "Signs," which was number one at the box office last week. However, "Signs" was on twice as many movie screens.
Kenneth Turan of the Los Angeles Times attributes the success of "My Big Fat Greek Wedding" to the fact that it has a lot of "heart and soul."
"This is what the audience is responding to, and loving it totally," he wrote.
A sampling of moviegoers nationwide revealed that "My Big Fat Greek Wedding" was the movie on everyone's mind. Someone even reported that a five-screen art house in Rochester, N.Y. saved itself from extinction by playing the movie on all five screens. The LA Times states, "What is remarkable about My Big Fat Greek Wedding is this undemanding, middle-of-the-road, fairy tale about a feisty Greek woman who marries outside her wacky sit-com culture, has a warmth, a belief in emotion, and a connection with the real stuff of life."
"There is such a need in the cinema world for that kind of connection that people will ignore flaws in the actual moviemaking just to get it."
Recently, this reporter ran into Lainie Kazan, who plays the Greek mother in the movie, at a fundraiser in Sedona, Arizona. Of the hundreds who attended this event, when asked who had seen "My Big Fat Greek Wedding" more than 90 percent of the audience said yes. Kazan said that there is already academy talk of possible Oscar nominations for the picture. "It would be great if Nia would receive one for having written her own screenplay. . .It was such a joy to work with her," Kazan said. But it would be even more terrific if Kazan, along with Michael Constantine, get nominations for Best Supporting actors.
Nia Vardalos is currently in London, attending the opening of the film in Britain. She is soon scheduled to travel to Australia for its opening there. The movie is also playing in Singapore, Switzerland, Israel, Iceland, and of course, Greece.
Ted Koppel recently interviewed Vardalos on ABC's Upclose series.
Vardalos told Koppel that she traveled to Greece this summer to relax, but there were so many American tourists who had seen the film that she was recognized nearly every day.
One woman came up to her and said, "I saw your movie, 'My Big Fat Greek Wife.' How did they make you look so fat in the movie?"
Vardalos said she was "padded for the weight" but corrected the woman's error, that the film's name is "My Big Fat Greek Wedding," not "wife."
"Once you're famous, people will come up and say anything to you," Vardalos said.
But she also admits that it was worth all the hard work in her early days, doing "My Big Fat Greek Wedding" as a one-woman comedy show.
So much of the movie's success is owed to Tom Hanks and Rita Wilson, who produced it. Hanks' real life Greek wedding to Wilson at the Saint Sophia Greek Orthodox Church in Los Angeles was, as he says, also a "big fat affair."
They both related to Vardalos' story and now they are enjoying its success with her, all the way to the bank. Recently, Sony music released the movie soundtrack album.
The first 14 cuts are terrific Greek music from the film, and the last five are the romantic love themes that make the movie so endearing.
Stay tuned—this big fat Greek movie seems to be just getting started.
(The National Herald, September 7-8, 2002, pages 1,3)