The Orthodox Christian Mission Center needs your help finding volunteers to do the work of our Lord!

We hope to complete Short-Term Mission Team selections this month – including clergy as team leaders. Your role is crucial to our growing efforts. Please encourage others to participate. We still have plenty of openings for those with an interest in missions. You can include the following in your weekly bulletins, monthly newsletter, or e-groups:

Want to reach the world for the Faith?

Go on an OCMC Orthodox Short-Term Mission Team. In 2006, teams will travel to:

Alaska (teaching and construction)
Albania (youth outreach)
Ethiopia (health care)
Guatemala (youth outreach)
India (teaching)
Kenya (construction)
Romania (youth camp & counseling)
Tanzania (teaching)
Uganda (health care).

We have openings for 90 Orthodox Christians who want to put their faith in action. Contact OCMC (tel: 1-877 GO FORTH; email: teams@ocmc.org) or visit our website at www.ocmc.org and download an application. Space is limited –apply today.

Thank you for your continuous support and prayers in the mission work of the Holy Orthodox Church. We pray for continuous growth in Christ and missions for you and your parish.

In Christ's service,

Andrew J. Lekos
Mission Teams Director

P.S. Want to participate on an Orthodox Mission Team? Need assistance? Please contact us to find out more.

P.S.S. This week, the first OCMC Orthodox Mission Team of 2006 departs for Berisso, Argentina. The team will spend two weeks working with long-term missionary Cynthia Baldwin-Thanos and the Church in Argentina. Please pray for this team and their efforts.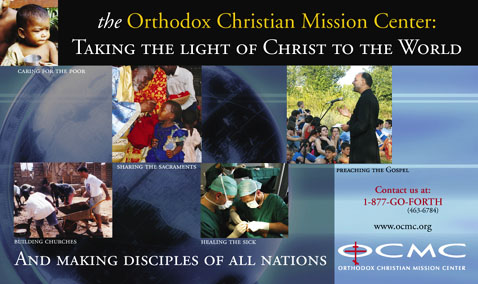 How can they call on one who they have not believed?
And how can they believe in one of whom they have not heard?
How can they hear without someone preaching to them,
and how can they preach unless they are sent?"
-Romans 10:14

Watch the free video online
http://www.orthodox.tv/freemedia_viewer_select.php
---
HCS readers can view other articles about or by the Greek Orthodox Metropolis of Atlanta in our extensive, permanent archives at the URL http://www.helleniccomserve.com/archivemetropolisatlanta.html. For more information about the Atlanta Metropolis or its Department of Youth and Young Adult Ministries, contact Michelle Cassimus, Youth Coordinator at 404-634-9345 or youth@atlmetropolis.org. See also the website of the Metropolis at the URL http://www.atlanta.goarch.org.

The Metropolis falls under the ecclesiastical jurisdiction of the Greek Orthodox Archdiocese of America (http://www.goarch.org) and the Ecumenical Patriarchate of the Orthodox Church at Constantinople (http://www.patriarchate.org).

---