By Christos Iliopoulos
Those that will have the chance to be at a stadium or an athletic venue to attend the Athens 2004 Olympic Games must definitely consider themselves lucky. In a way they will feel as if they are exercising a prerogative or an exclusive right, reserved only for a few thousand people all over the world. Because it is everybody's dream to watch the Olympics from the inside at least once in a lifetime. And what a marvelous coincidence to be able to be an attendant of an Olympic event in the very country were the idea of the Games was born, at the place where for centuries men from all over the ancient world exercised their bodies and minds for the most noble of all causes: a branch of an olive tree from the Hellenic earth, so fertile in ideas and ideals, which remain invaluable until our time.

The first and most obvious obligation for those that want to be present at an Olympic event is of course to pay the price of the ticket. Apart from that, though, there are certain obligations or duties that the spectators must abide by, so that not only the individuals can enjoy the Games without disruptions of any kind, but also the Greek state and the world society will benefit from the uneventful organization of the most important world class event in modern times.

Once the prospective spectator has obtained the valuable piece of paper called a ticket, he/she has the basic right to attend the specific event chosen, at a specific place and time. The spectator is entitled to attend the Games uninterrupted by any kind of behaviour from others, either individuals or groups of people. This makes the spectator both beneficiary (right to attend uninterrupted) and obligated to follow the rule (not to inhibit with his/her actions the other spectators' attendance).
What a marvelous coincidence to be able to be an attendant of an Olympic event in the very country were the idea of the Games was born, at the place where for centuries men from all over the ancient world exercised their bodies and minds for the most noble of all causes...


Since thousands of people have already applied for a ticket, and millions will be expressing an interest in attending the Games as the summer of 2004 is getting closer, it is useful for everyone to know their basic duties if they are to attend an Olympic event during August 2004 in Athens. The rules that govern the contract between the organizers of the Games and each holder of a ticket are printed at the back side of the ticket as well as on official documents and internet sites of the Athens 2004 Olympic Games.
An important rule is that it is prohibited to resell, exchange or trade in general the ticket that you have bought. The obvious reason for such rule is to limit the black market of tickets. Such a practice has already become a "traditional" side effect of every large scale athletic or cultural event worldwide, since there are always people willing to pay larger prices for tickets as the event is approaching and interest is sky rocketing. And when there is a demand, there is always offer from those that are concentrating in profit.
Another reason for this prohibition is to protect the Olympic products and the tickets from being traded by merchants of dubious motives, or from shops that are not prepared to live up to the standards that the international bodies have set for all Olympic paraphernalia.
What happens, though, when a perfectly honest chap has bought a ticket, which he cannot use since an unexpected situation in his personal or professional life has forced him to change his schedule? The official answer is that tickets are not nominal, so our friend can always give his ticket to someone else, but not in exchange of money.
In case of a change of time, during the same day though, of an athletic event of the Games, the ticket holders are not entitled to a refund, nor can they replace their ticket.
If a session is postponed for another day, that session's ticket holders must retain their tickets. Those tickets will be valid for entry to the postponed session on the new date that it will take place. Ticket holders for postponed sessions are not entitled to replace their tickets nor receive refunds.
If there are changes to any session's schedule or participants, ticket holders may not exchange their tickets or receive refunds.
If a session is cancelled, ticket holders for that particular session may apply for refunds. Those session's tickets may not be exchanged for tickets to a different session.
ATHOC (Athens Organizing Committee) is not liable for any claims, damages, compensation, losses or expenses as a result of the Games or sessions being cancelled, postponed or changed.
According to a specific term of the contract all attendants are responsible for their own safety and for the safety of any children accompanying them. To the extent permitted by the law, the spectators release ATHOC, the IOC, the Hellenic Olympic Committee (including their directors, officers, employees, consultants, contractors, agents and volunteers) from any liability for any damage, loss, liability or injury the spectators may suffer in relation to their attendance at a venue howsoever caused including due to any negligence or other act or omission of ATHOC.
On the contrary, the ticket holders will be liable to actual (and possibly punitive) damages (compensation), for all their willful, reckless or negligent acts or omissions at a venue.
It is understandable that it is prohibited to bring into the venues explosives, weapons etc. even if they are legally carried. You cannot bring into the venues chemical or detonation devices, tear gas, smoke bombs, knives, drugs or other illegal substances, fireworks, bats, and any objects in general that may cause bodily harm, even roller-skates, skateboards, electronic equipment of any Broadcasting Company without broadcast rights, flags of non-participating countries, flags of participating countries that are larger than approximately 2 x 1 meters, alcoholic drinks, signs, umbrellas, commercial items with obvious logos of competitive companies to sponsors (hats, T-shirts, bags, etc.), pirate ATHENS 2004 products, brochures, unauthorised publications, advertising print material with religious, political, or offensive content, glass bottles, animals, to mention the most important.
Smoking and gambling, as well as unauthorized collection of money (for hypothetical charities or other goals), coordinated group promotion or advertising efforts (such as a group of spectators in adjacent seats with a letter or symbol on each shirt that together form an advertising, political, or religious message), ambush marketing activities, political or religious activities and protests, the sale of goods by unauthorized individuals (street sellers) are not allowed.
It is allowed to videotape the Games, as well as to use your mobile phone or any other device that can record images or sound, under the condition that you will use this material only privately and not in any way for commercial purposes, since only authorized broadcasters have paid and are therefore allowed to trade sound and images from the Games.
According to Greek law, (article 2 of the Greek Constitution and article 8 of the European Convention on Human Rights) it is a breach of personal privacy if someone is filmed or recorded and the material is publicly transmitted. For this reason, all those that buy tickets for the Games it is deemed that they consent to their image being publicly shown on TV etc.
It is important to note that all ticket holders will be entitled to transportation free of charge on the day for which their ticket is valid. However, tickets are not valid for free transport to, from and within other Olympic cities where football matches will be held.
Finally, the contract between the Games' organizers and the holders of the tickets is governed by the law of Greece. Jurisdiction for any litigation have the courts of Athens.
---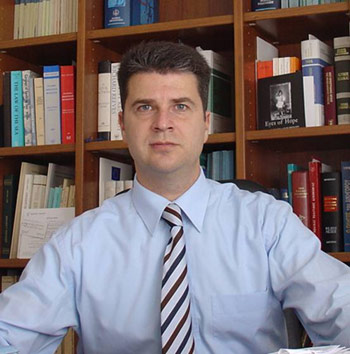 Christos Iliopoulos is an attorney at law, LL.M., in Athens, Greece, specializing in International and European Business Law. For more information about him, see his brief biographical sketch under the HCS section for Contributing Authors at http://www.helleniccomserve.com/christosiliopoulosbio.html. He has submitted many articles to HCS; readers can browse these in the archives section bearing his name at the URL http://www.helleniccomserve.com/archiveiliopoulos.html. He can be contacted by e-mail at bm-bioxoi@otenet.gr or by phone (from the US) 011-30-210-6400282; mobile 011-30-693-2775920, fax 011-30-210-6400282, or by postal mail at the address: 105 Alexandras Ave., Athens, 11475, HELLAS

HCS readers may wish to view other articles about Greek property laws and taxes in the Greek Laws and Procedures section of our archives at http://www.helleniccomserve.com/archivegreeklawsnprocedures.html