For more news, analysis and
features from the Athens News,
visit http://www.athensnews.gr
Hellenic Communication Service, L.L.C. provides links to
Greek News Sources.
Click on the links
below to visit
their sites.

---

Athens Photo News

---

---

---

---

---

---

---

---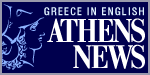 Greece Rejects Linking Cyprus Settlement, Aegean Claims

By George Gilson, Athens News
Reprinted By Permission

GREECE has flatly rejected the linkage drawn by Turkey and Turkish-Cypriot leader Rauf Denktash between a Cyprus settlement - including the departure of most of the 35,000 Turkish occupation troops on the island - and concessions by Athens on Ankara's territorial claims in the Aegean.

At the same time, the European Union's commissioner for enlargement, Guenther Verheugen, stressed while on a trip to Athens that the EU intends to honour the commitment it made at the 1999 Helsinki summit that a political settlement on the island will not be a precondition for the island's EU accession. Verheugen was optimistic that Greece will be able to usher Cyprus towards the EU during its 2003 presidency. "My strong expectation is that we will be in a position to conclude [accession] negotiations with ten countries at the end of this year. That gives us a beautiful opportunity to use the Greek presidency for the final act and to host the event when the treaty of accession with the new member-states will be signed. Then it will be the treaty of Athens," he said on March 21 following talks with Premier Costas Simitis and directly after a one-hour meeting with Foreign Minister George Papandreou.

The message struck an optimistic note amid current difficulties in both Cyprus talks and Turkey's lingering territorial demands in the Aegean. "The Greek government and foreign ministry in no case accept an equation linking two processes that are entirely separate, each with its autonomous dynamic. The Cyprus problem is an international issue with its own momentum. For us, Cyprus can in no case be discussed on the basis of mutual concessions on issues related to disputes with Turkey in the Aegean," foreign ministry spokesman Panos Beglitis said on March 21.

But Greece's ambassador to Turkey, Ioannis Korantis, indicated in his annual report to the ministry - portions of which were published by Greek Communist Party organ, Rizospastis - that the powerful Turkish military draws a clear linkage between Ankara's occupation of Cyprus and its Aegean demands. The report indicated that Turkey's military establishment allowed Turkish-Cypriot leader Rauf Denktash, their pointman in occupied Cyprus, to return to negotiations in January in the hopes of achieving an "Aegean-Cyprus" package deal.

"We conveyed our views and hopes on these subjects," Turkish Prime Minister Bulent Ecevit said after his March 20 meeting with US Vice-President Dick Cheney in Ankara. Cheney declined to hold a joint press conference with Ecevit as he wound up a Middle East tour.

"One should not expect any easing of the Turkish stance towards us [Greece] despite any verbal improvements noted at the level of the political leadership. Violations [of airspace] will persist and increase, pressure in Thrace will continue and the quest to circumvent Turkey's treaty obligations will continue," Korantis was quoted as saying.

The Greek ambassador underlined Ankara's keen interest in the demilitarisation of the Greek Aegean islands along the coast of Asia Minor, a demand that Turkish diplomatic sources told the Athens News would be raised in ongoing "exploratory talks" on the Aegean. The second meeting in those talks is scheduled for April.

While in Athens, Verheugen underlined that he had made clear to Turkey that it must improve its human rights record in order to begin accession talks, including issues of freedom of religion, which touch on the free operation in Istanbul of the Ecumenical Patriarchate, the coordinating centre of 300 million Christians worldwide. "Respect of human rights is an absolutely essential condition for meeting the political criteria, and freedom of religion and belief is definitely part of the human rights criterion," Verheugen told the Athens News, when asked if limitations on religious freedom, such as the requirement that the highest-ranking leader of a major Christian church be a Turkish citizen, are to be weighed in Turkey's progress towards EU membership.

"Turkey has to meet the political criteria and then we decide on the date for the opening of negotiation, not the other way around. Today, I must say the political criteria are not met. I very much appreciate the progress in Turkey and encourage it to continue, but there are still some important deficiencies which I have clearly defined in Ankara. So, the timing of the accession progress is completely in the hands of Turkey," said Ver heugen. "We expect Turkey to play a constructive role in suporting the efforts of the secretary-general of the United Nations," he added, refusing to link Ankara's continued occupation of Cyprus to Turkey's EU accession course.

In Cyprus, US envoy Thomas Weston met with Clerides and Denktash on March 21 in a bid to push direct talks that have stalled due to Denktash's insistence on the recognition of a separate state in the occupied north.

UN mediator Alvaro De Soto will pay visits to Ankara and Athens on March 28-29 and United Nations Secretary-General Kofi Annan is expected to take a more active role in the ongoing second round of talks, during which US and British mediators are also expected to table proposals. There have been unconfirmed reports that British envoy Sir David Hannay has presented a proposal for a rotating presidency, an idea which Clerides has categorically rejected in the past.