For more news, analysis and
features from the Athens News,
visit http://www.athensnews.gr
Hellenic Communication Service, L.L.C. provides links to
Greek News Sources.
Click on the links
below to visit
their sites.

---

Athens Photo News

---

---

---

---

---

---

---

---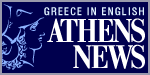 Triumph for Thanou, Vogoli

Greek stars win gold in 100m sprint and discuss at European Athletics Championships, Britain's Chambers wins men's dash in his first international competition while Germany's Drechsler fails in bid for 5th straight title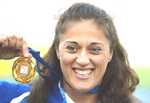 Katerina Vogoli

OLYMPIC silver medallist Ekaterini Thanou and Ekaterini Vogoli won Greece's first golds at the European Athletic Championship in Munich on August 7. Thanou won the women's 100 metres in 11.10 in a race postponed almost 90 minutes because of a protest by her own national team.

Ekaterini Vogoli of Greece won the women's discus at 64.31 metres ahead of Russia's Natalya Sadova with 64.12, and Greek Olympic medalist, Anastasia Kelesidou with 63.92.

Britain's Dwain Chambers collected his first major international title, overcoming cold, wet weather and three false stars to clinch the men's dash in 9.96 seconds.

Heike Drechsler of Germany failed in her bid to win a fifth consecutive long jump European title, settling instead for fifth place. Russian favorite Tatyana Kotova won the gold with a leap of 6.85 metres.

Thanou, who has the third-fastest European time this season, edged Belgium's Kim Gevaert, runnerup in 11.22. Manuela Levorato of Italy took the bronze in 11.23. It marked the end of a long, frustrating wait for the 27-year-old Thanou. The 100m silver medalist in Sydney, Thanou finished third at the last Europeans in 1998 as well as third at the world championships in 1999 and 2001.

"I have been waiting for this medal for a long time. I had won three golds at the indoor championships but never the open air event. What's most important for me is that I've been among the top athletes since 1995," Thanou said

"The recipe of determination and effort has worked. We have two difficult years before the 2004 Olympics" she added and "Nothing is impossible".

Thanou and the other finalists were forced to wait around in the dismal German weather for an hour and half after the Greek team launched a protest, believing one of the racers had made a false start in the semifinals. The protest was eventually rejected but the process ended up scrambling the evening's schedule.


Staying focused despite a first false start by compatriot and defending champion Darren Campbell then two others by Greece's Georgios Theodorides, Chambers grabbed control early in the race to cross ahead of Portugal's Francis Obikwelu, runnerup in 10.06.

"I have proven now I've got all the ability in the world," said the 24-year-old Chambers, who shattered the championship record set by Campbell four years ago to set a personal best. "The victory was never in doubt but it was hard keeping my composure with all the false starts. This is a great answer to all my critics. I even started doubting myself because of all the hype that was creeping in. I thought I would win the Commonwealths but not the Europeans," added the Briton, who pulled up with a cramp in the 100 metre final at the Commonwealth Games earlier this month after drinking the wrong energy beverage between rounds.

Campbell, who almost had a second false start but was saved by an even more premature Theodorides, lifted bronze in 10:15. Theodorides was disqualified for his two false starts. Campbell's bronze, along with the 200 bronze and 4x100 relay gold he won in Manchester, is a promising sign after battling back from an 18-month injury nightmare this season.

"I cannot tell you how excited I am," he said. "Who would've thought I would be here, let alone getting a medal?

"I'm now looking forward to next year and the Athens Olympics in 2004. The final has told me there's a lot more to come. Here I improved from 10.30 seconds to 10.15 seconds from the semifinal to the final."

Kotova, who leads the season's long jump with a leap of 7.42 metres, was followed by Britain's Jade Johnson and Hungary's Tunde Vaszi, who had identical results of 6.73.

Johnson took the silver ahead of Vaszi, however, as her second-best jump was better than the Hungarian's. At 37, Drechsler is still among the world's top contenders and is the reigning Olympic champion, but hates competing in the rain and managed only 6.64.

"My expectations were very high but how could I have known about this stupid weather?" Drechsler said.

Jose Manuel Martinez of Spain won a thrilling men's 10,000 final, b eating Germany's Dieter Baumann in 27 minutes, 47.65 seconds. Baumann, in his first major competition since sitting out a doping ban, collected his second straight silver in the distance, crossing in 27:47.87. Another Spaniard, Jose Rios, clocked 27:48.29 for the bronze. The two Spaniards led going into the last lap but Baumann kept up the pace and surged past Rios in the final straight.

Baumann, the 5,000 Olympic champion in 1992, was suspended for two years after testing positive for the banned steroid nandrolone. The 37-year-old German always insisted on his innocence, claiming his toothpaste had been spiked with the substance.