For more news, analysis and
features from the Athens News,
visit http://www.athensnews.gr
Hellenic Communication Service, L.L.C. provides links to
Greek News Sources.
Click on the links
below to visit
their sites.

---

Athens Photo News

---

---

---

---

---

---

---

---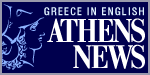 Where Are the Volunteers?

Some insiders claim that ATHOC's campaign to attract 60,000 helpers for the2004 Games will fail and raises significant security risks.

By John Hadoulis, Athens News
Reprinted by Permission
FOR the past five months, Athens Olympics officials have attempted to boldly go where no Greek organisation has gone before - in search of thousands of volunteers to help with the 2004 Games.

Under the leadership of a new manager (the previous one having been fired), ATHOC says it has obtained 18,149 applications so far, out of a total reserve of 150,000 needed to secure 60,000 volunteers for the Olympics and Paralympics.

"The number of applications so far received is very satisfactory," new volunteer division general manager Costas Bogdanos notes in a statement. "We are clearly ahead of Sydney [Games organisers] in this respect."

But even as the laborious process continues, ATHOC has clearly slipped behind its original schedule. In 2001, organisers had planned to begin selecting volunteers early this year. Training was to begin in the second half of 2002. Now Bogdanos tells the Athens News that "[ATHOC] is in the process of formulating a programme to train our volunteers starting in 2003".

What makes the task more difficult, critics point out, is the near-total absence of a volunteer mentality. "Volunteerism in other countries has the nature of a movement, but there is no such tradition in Greece," says a preparation insider who has studied previous Games. Seventy-three percent of ATHOC's applicants have no prior volunteer experience.

"We hear there are hundreds of volunteer organisations in Greece. Where were they when the country was snowed under this winter? Where were they when the earthquake struck in 1999? Conscripts are the ones who often handle these tasks - but they're not volunteers!" continues the expert, arguing that the programme can only work if beefed up largely with idle troops and students.

A major security risk?

And there are other, more worrisome flaws in ATHOC's strategy, argues the insider. "Volunteers pose the greatest threat to security," he says. "Some of them will have access to highly sensitive areas. Who is going to adequately screen 60,000 people?"

ATHOC wants to manage the screening process centrally, to cut costs. A public- or private-sector organisation may be selected to assist if necessary. An ATHOC official stresses that "all volunteers will be subject to security checks during the Games, just like spectators and everybody else at venues".

Organisers have launched a broad volunteer campaign with only one requirement: those interested should be over 18. Hundreds of people aged 61 and above have already responded, but most who have expressed interest are between 21 and 30. Therein, the criticism goes, lies ATHOC's second error. "The committee rushed to purchase Sydney's volunteer training programme, which was largely geared towards pensioners and housewives, before even finalising the profile of Greece's own volunteers," says the Games veteran.

Double digits

Other critics pick through ATHOC's volunteer announcements and find that they don't always hold up. The committee recently boasted that Greek organisations boasting 40,000 members have pledged their support. But ATHOC is still evaluating the lists, trying to find whether people who belong to more than one organisation have been counted more than once.

At the volunteer initiative's inauguration in January 2001, main opposition leader Costas Karamanlis said there are 6,000 people currently engaged in non-governmental organisations (NGOs) in Greece. He also asserted that "six out of 10 Greeks don't know what volunteerism involves, and four out of 10 do not wish to take part".

Help is on the way, albeit without central planning. Since January 2001, New Democracy has been collecting volunteer signatures from its youth groups and offices at 54 prefectures. The party could not say how many names were collected.

According to reports, the Church of Greece is also planning a volunteer initiative through its parishes. The church's preliminary volunteer forms are expected to be released in the coming weeks.

The bonus onus

In the early phases of the programme, "what are the benefits?" was a frequent question fielded by ATHOC phone operators. A year later, much of the talk on volunteerism still hinges on the question of bonu ses.

On May 12, Eleftherotypia's Sunday edition reported that Prime Minister Costas Simitis and Culture Minister Evangelos Venizelos had met a few days earlier to discuss the prospect of providing volunteers with special incentives. According to the newspaper, the measures discussed were pay bonuses and extra holidays for public-sector employees, credit towards public-sector enrolment for the unemployed, special leave for conscripts and military service deferral for youths of army age.

Speaking from Thrace upon the completion of a May 16-19 volunteer awareness tour of the region, ATHOC president Gianna Angelopoulos-Daskalaki attempted to put an end to the debate on bonuses. "The Olympic volunteer programme demands the participation... of all people who wish to contribute unselfishly. This is unnegotiable for us," she said.

A new anthem for dissidents?

Even as the volunteer debate rages on, many Greeks continue to harbour misgivings about an event that yields millions of euros to many of the participants, yet calls on other people to participate for free.

Hip-hop group Vavylona and popular comedian Tzimis Panoussis recently tapped into this spirit with a new song. Playing on the Greek word for volunteer, ethelontis, the song was titled "Dethelontis" (which means "I don't want to volunteer").

"Go volunteer, because if you don't they may come looking for you," say the lyrics. "If you refuse to wear an olive branch on your head, you'll hear from the public prosecutor... they'll set the dog-catcher on us."

Details on the volunteer programme can be found on ATHOC's official website www.athens.olympic.org. Information is also available toll-free on 0800-20041.