For more news, analysis and
features from the Athens News,
visit http://www.athensnews.gr
Hellenic Communication Service, L.L.C. provides links to
Greek News Sources.
Click on the links
below to visit
their sites.

---

Athens Photo News

---

---

---

---

---

---

---

---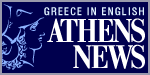 Greece Ratifies Ottawa Treaty

By Kathy Tzilivakis, Athens News
Reprinted By Permission

GREECE has taken a big step to eliminate anti-personnel landmines. Parliament finally voted on March 20 to ratify the Ottawa Treaty banning the use, stockpiling, production and transfer of these mines.

Greece signed the treaty in December 1997. Since then, mine removal has been carried out along the northern border with Albania, Yugoslavia and Bulgaria, where an estimated 400,000 mines and unexploded ordnance lay hidden since the Greek Civil War and the Cold War.

These anti-personnel land mines, designed to kill or maim footsoldiers, are being lifted out by hand. Removal along the Bulgarian border - where the minefields were laid during the Cold War era - is expected to be completed early next year.

But now that Greece has ratified the Ottawa Treaty, the defence ministry is required to clear minefields along the country's border with Turkey in the Evros region, the country's last remaining active minefield. Greece and Turkey - two historical rivals - agreed in April 2001 to work together to implement this global treaty outlawing anti-personnel landmines deployed along their borders. Turkey recently restated its intention to begin procedures to accede to the Ottawa Treaty.

"Greece finally ratified the Ottawa Treaty, but this was not easy," Theo Rosenberg, president of Doctors of the World-Greece, told the Athens News. "It is the persistent effort of many activists, many non-governmental organisations and public opinion that pressured Greece to ratify the treaty and to finally clear all the minefields from the Evros border, where many people, mainly refugees and asylum seekers have been killed and wounded. Doctors of the World has stood at the forefront of the struggle to ban landmines in Greece and to clear the last bastion of these horrid weapons. We must congratulate the defence minister [Yiannos Papantoniou] and the Greek parliament."

Rosenberg explained that the main reason Greece delayed the ratification of this treaty is that Turkey had not yet signed the convention. Greece, however, took the first step. "Not all the opinions [at the defence ministry] are in favour of ratification," he said. "Turkey has been the main argument against ratification, even though we have no evidence that Turkey has active landmines along its border area with Greece. Yet, Turkey has refused so far to sign the Ottawa Treaty. But now, there is no argument for Turkey not to sign and ratify this convention. We will continue to push and exert pressure on both sides."

In May 2001, the then defence minister Akis Tsochadzopoulos (now development minister) had stressed that the removal of anti-personnel mines would not undermine Greece's defence capability. Main opposition New Democracy deputy Yiannis Varvitsiotis (a former defence minister), however, said that these landmines were a shield against attacks by countries with large infantry divisions, such as Turkey. Varvitsiotis blasted the Pasok government for offering the landmine removal as a one-sided effort to improve relations with neighbouring Turkey.

Meanwhile, Maria Marouda, a professor of international law at Panteion University, explained that the ratification of the treaty "opens the door" for the clearing of the Greek-Turkish border area in Evros. Marouda, who has extensively studied the removal procedures in Greece, noted that Greece is now obligated to clear anti-personnel landmines and destroy an estimated one million of these weapons currently in stockpiles.

"From the moment of ratification there is a period of time, as long as several years, in order to complete the clearing procedure and to destroy the mines in stock," Marouda told the Athens News. "This will take some time. We do not know exactly when removal will start in Evros, but this is of secondary importance. What is most important is that the treaty was ratified and that clearing has already started in other parts. Removal units are now finishing up in the area near the Greek-Bulgarian border. So, first they must finish this and then move on to Evros." According to the Ottawa Treaty, the destruction of all anti-personnel mines in place must be completed "as soon as possible, but no later than ten years after the entry into force of this Convention for that State Party". Article 7 of the convention also requires each signatory to report to the secretary-general of the United Nations no later than 180 days after the enforcement of this Convention. This report should outline the national implementation measures, the total number of all stockpiled anti-personnel mines owned or possessed by it, and the location of all mined areas that contain or are suspected to contain anti-personnel mines.

Border deaths set off mine-banning campaign

In September 1997 (four months before Greece signed the treaty), Rosenberg called a news conference to launch the campaign to ban anti-personnel landmines. He told reporters that "Greece should adopt border protection methods and measures that do not necessarily endanger human lives". At that time, at least 16 people had been killed and another 10 maimed in minefield explosions in Greece since May 1994.

From then on, at least 39 more people have been killed and 36 others seriously wounded. With the exception of one Greek soldier and two other Greeks, the rest were asylum seekers illegally crossing into Greece from Turkey. Two Turks were killed at predawn hours on March 20, just a few hours before Greece ratified the Ottawa Treaty. Another illegal migrant crossing into Greece from Turkey was also killed and three others injured on March 28. They were part of a group of six people from Algeria, Morocco and Iraq who strayed into the minefield after crossing the Evros River separating Greece and Turkey, army spokesman Lt Col Ioannis Papatheodosiou told reporters.

According to a survey conducted by Doctors of the World-Greece (based on hospital records and newspaper reports), the 56 people killed and 49 wounded in mine explosions since May 1994 were all near the Turkish border. These minefields are only marked on the Greek side.

"We do not have exact information about the injuries," Daniel Gorney of Doctors of the World-Greece told the Athens News. "But these weapons usually rip off a leg and put pieces of shoe, plastic and mine into the stump. Anti-personnel landmines are vicious weapons that must be cleared."