For more news, analysis and
features from the Athens News,
visit http://www.athensnews.gr
Hellenic Communication Service, L.L.C. provides links to
Greek News Sources.
Click on the links
below to visit
their sites.

---

Athens Photo News

---

---

---

---

---

---

---

---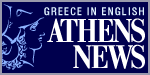 Relatives of November 17 Victims Speak Out
Advocacy Group Hopes to Raise Public Awareness, Spark Opposition to Terrorism

By George Gilson, Athens News
Reprinted by Permission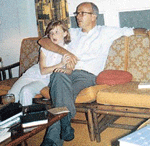 Richard Welch with nine-year-old daughter Molly, in 1967

MOLLY Ball's bright blue eyes and winning smile light up as she speaks of her father Dick, a Harvard College classics major who came to Greece with his young wife in 1951, on his first, eight-year US government posting. Molly was born in Athens during that time as were her two brothers, Tim and Nicholas, who was nearly named Hadrian, after the eponymous arch visible from her mother Pat's hospital room. But the tears run in steady streams as she speaks of losing the man whom Greece and the world came to know as the first fatality of the November 17 terrorist group. CIA station chief Richard S Welch was slain in front of his home on December 23, 1975, opening a dark and as yet unresolved chapter in Greek history.

Those were heady days for a Greek public experiencing its first taste of freedom and democracy in seven years. There was a deep reservoir of anti-American sentiment for the US role in supporting the military dictatorship from 1967 to 1974. The US was also blamed for not stopping the Turkish invasion and partition of Cyprus in 1974, which some even believed was engineered by then-secretary of state Henry Kissinger. "Nato-CIA-Betrayal" was a popular slogan then. Indeed, conservative prime minister Constantine Karamanlis pulled Greece out of Nato's military flank. Welch's murder may or may not have been related to that.

Twenty-seven years later, Molly is among the dozens of relatives of those killed by terrorism, who for the first time came together in the group Os Edo [Up to here! - www.osedo.gr] late last year to raise public awareness of, and opposition to, terrorism. They believe the media have too often exhibited a thinly veiled sympathy for these tactics. At an event co-sponsored by the Greek public order ministry on June 4, they gathered at US Ambassador Thomas Miller's home where they heard Public Order Minister Michalis Chrysohoidis and Justice Minister Philip Petsalnikos pledge once again to root out the scourge. On the second anniversary of the murder of British defence attache Stephen Saunders, on June 8, they plan to distribute stickers for people to put on their cars.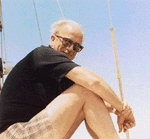 Welch enjoys a Greek summer four months before his murder

Statute of limitations running out

At a June 5 press conference, Os Edo members expressed disbelief at what they by now consider hollow promises, since they have not even been told if their relatives' cases are still being investigated individually. Former Pasok minister George Petsos charged that 17N, which nearly killed him, is linked with "state secret services". Within three years, 19 terrorist murders will have been written off under a 20-year Greek statute of limitations on murder. Molly Ball finds it difficult to live with that.

"When I came to Athens and spent time with him, I felt like I fell in love with my dad. I didn't really know him. Every time I saw him - at age six, nine, and then seventeen - I was a different person," she says of her father, with whom she spent the last months of his life in Athens before returning to England two weeks before his murder.

Welch had divorced her mother and then remarried a Guatemalan native who was with him on the night of his death. Molly recalls the pain and difficulty of her parents' divorce and being separated from her father. "We would be reacquainting ourselves with our father for six weeks and going back to my mother, who had to deal with three completely heartbroken children," she says.

After leaving Athens in 1959, Welch spent the next several years in Cyprus, staying there during the first difficult years after the formation of the fledgling republic and through the intercommunal strife of late 1963, after which only US President Lyndon Johnson's intervention averted a Turkish invasion. "I remember the troubles because we lived right on the Green Line and were evacuated from Cyprus. I remember my mother signing the condolence book at the US embassy when President Kennedy was assassinated. When we were evacuated, my father stayed in Cyprus and eventually came back ," Ball says. He was later posted in Guatemala and Peru.

Daughter says Welch would never have harmed Greece

When Molly finished high school in 1975, her father invited her to Greece for a long visit. That was the first time he told her he was with the CIA. "When I was very young I thought he was a diplomat. All my mother would say is that he worked at the embassy. It's not something that you discuss anyway. When you are very young, does it actually matter?" his daughter recalls.

"I just had the time of my life here. My father prepared an itinerary for me and my brother Nicholas, who was here until October, to see Delphi, the Corinth Canal, Sounion, the Greek islands. He told me to see the mask of Zeus at the archaeological museum and report back. He really wanted us to explore this city for ourselves," she says. "He embraced the whole culture - the history, language, food, scenery, water, sailing. It was just his sort of country. I honestly believe he would have liked to retire here - that's how much he loved it."

Molly emphasises her father's love for Greece and wants people to know that he would never do anything to harm the country. "He had a fantastic rapport with local people. From going around Athens with him so many times, natives would say his command of the Greek language was better than theirs. And he had the most fantastic sense of humour. He would go into tavernas and the owner would slap him on the back and take him into the kitchen. This happened everywhere," she says. "Obviously, he was my protector. He was my dad for nearly the first time just for the months before his murder. It's a privilege to have been in Athens for that time," she says.

Although she felt "100 percent shock" on hearing news of her father's murder, she says there were hints of what was to come when she was in Athens. "There were threats and warnings. He was told by the embassy that he shouldn't live in the house. He was told that he should carry a gun. My father never ever carried a gun, and he never would have. It just wasn't his style. He was in a country he loved, with people that he loved. This was the last place that he thought something like this would happen. But I know that we looked for bombs under the car when we were parked in different places in Athens. He just said, 'Oh, we've been told let's have a look at the car for a bomb.' Honestly, he didn't take it seriously," says Ball.

"He understood US-Greece relations perfectly, but he never discussed it with me. He knew exactly what was going on in this country. He loved this country. My mother said 'Your father could never do anything to harm this country,'" Welch's daughter stresses. "No one would believe that it [the murderer] was anyone who was Greek. That was so out of my family's realm of thought that a Greek national would kill my father - that it had to be something else, for another reason, and that he just happened to be living here at the time. We still don't know if he was targeted because he was Richard S Welch and he happened to be living here or was it 'Guess who arrived!' Why wasn't it the man before him, or before that, or before that? This is why we think they did want him and not just a symbol. I just don't know. I wonder if my father knew," Ball says.

Since coming to Greece and visiting the house where her father lived, Molly Ball has been flooded with memories. She is critical of successive Greek governments because she believes "they have had no desire whatsoever to bring any of these people to justice". But she also hopes Os Edo can change that by raising awareness. Her message to the Greek public is simple. "Anybody who is a mother or father, a brother or sister, a son or a daughter is part of a family, and you can't take one member away. And it never goes away. I have two children who will never know their grandfather, and I have to explain to them how he died. How would they like that?"