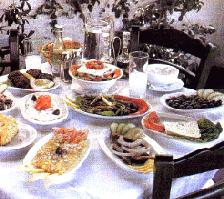 Yellow-tailed snapper, kebabs and lamb are among the specialties you'll enjoy at Athena by the Sea in Lauderdale
Surprise summer blockbuster
My Big Fat Greek Wedding
not only left millions of viewers delighted, it also left them hungry. If you're hankering for some good home-style Mediterranean cooking -- and for Greek-style fun and hospitality -- in South Florida, try Athena by the Sea. One of a handful of Greek restaurants in the area, it's a friendly place where visitors can mingle with enthusiastic regulars from in and around Lauderdale-by-the-Sea. And the food is terrific.
The
Miami Herald
describes its cuisine as "tempting" and compares it to Dancing Zorbas, the neighborhood restaurant run by the Portakalos family in the romantic comedy starring Nia Vardalos. Like its movie equivalent, Athena by the Sea is a family business.
Spiros Marchelos co-owns Athena with his brother and father. And yes, he's seen
Wedding
-- three times
.
"It hits close to home," he says. We have told all our customers about the movie and they have loved it. Hopefully come Oscar time it will be recognized."
Athena by the Sea offers a panoply of Greek specialties, starting with saganaki (fried cheese soaked in brandy and set afire to shouts of "opa!") and continuing on to souvlaki, delicious fried squid (kalamarakia), octopus or lamb. For dessert you can try baklava or -- my favorite -- luxuriant galatobourko, topped with honey-soaked phyllo.

Most Americans are familiar with
tzatziki
, the addictive cucumber-and-garlic dip that comes as a side dish with most Greek meals. But the adventurous may also want to try out the
taramosalata --
a kind of Greek caviar, salmon-colored and creamy and with a salty, not overly "fishy," flavor.
And don't worry: you won't be accosted by Aunt Voula or other quirky relatives. During dinner, the atmosphere is relaxed but quiet.
Late Friday and Saturday nights, though, are a different story.
In My Big Fat Greek Wedding, the sedate parents of Toula Portakalos's non-Greek fiance are dazed, then ultimately charmed by the no-holds-barred atmosphere of a traditional Greek gathering complete with tossed dinner plates and exuberant dancing.

If you're planning to stay late at Athena, be warned: you might have a similarly exhilirating experience.

The night we were there, the plates flew freely, the bottles of ouzo quickly emptied, and and a blonde belly dancer named Zamara appeared. Musicians played traditional Greek songs and soon there were more people dancing than sitting at the tables. The entire restaurant staff -- chefs, waitresses, bartenders and owners -- joined in the festivities.

Athena by the Sea is located at 4400 Ocean Drive, Lauderdale-By-The-Sea, FL 33308. Phone: (954) 771-2900 Hours are 7 a.m. to 11 p.m. Sun-Thu; to midnight Fri & Sat. Belly dancing starts at 9 p.m. Fridays and Saturdays. Prices are moderate; a typical dinner for two costs around $70. Specialties include fresh whole Yellow Tail Snapper, Tuna Kebab or Jumbo Baked Shrimp, and succulent Seasoned Charbroiled Lamb Chops. Smoking section; reservations accepted. To get there, go east on Commercial Boulevard to A1A.

(Posted December 2003)