---
The Second Balteas Generation

Panagiotis Balteas


In a catalogue of warriors dated 4 April 1844 (see Fig. 3), that was signed by the Defense Minister15, P. G. Rodios, we find Panagiotis and Anagnostis Balteas at [entry] numbers 11 and 12. A medal16 was conferred upon the two for their participation in the Revolution of 1821 and the struggle for independence on behalf of the nation. A few months afterward, a known adversary of the Mavromihalaion17, N. Pierakos (Mavromihalis), suggested a commission for their services during the struggle, a higher medal, namely the bronze medal which was "completely merited." The catalogue (see Fig. 6), sent from Kalamata on 7 June 1844, contains [the names of both] Panagiotis and Anagnostis Balteas, numbered 386 and 387.

From these two catalogued recipients, we infer that Panagiotis and Anagnostis participated equally in the struggle for freedom for the nation. Since it had in fact awarded them the bronze medal for bravery, they had to have labored increasingly during the struggle and, above all, from the beginning of the Revolution of 1821.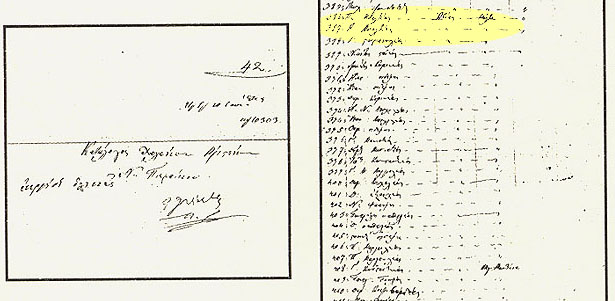 Again we find these two, just like all the other male members of the family, as signatories of the document of 1850, which we discussed above (see Fig. 3) and which must be very much in opposition to the Mavromihalaion of that era. Likewise we encounter them in various documents as a patronymic name in the names of their children.

Finally, Panagiotis Balteas had to have a second residence. The earlier one was at Varousi, but he lived also at Kalamata for professional reasons. Shortly prior to the birth of his last child, Dimitrios (1851), he resided almost exclusively in Kalamata.

Nikolaos or Anagnostis Palteas or Balteas

As we have reported above (see Fig. 5), he also bears the surname Palteas. He appeared as a fighter in 1821, and received the icon and bronze medals for bravery (see Fig. 3 and Fig. 6). In general, for this Anagnostis Balteas the same [information] is as valid as for Panagiotis Balteas, even though we don't have documentary evidence for when he settled in Kalamata. Probably he settled there together with Panagiotis.

In 1879 we find him to be 57 years old in Kalamata. He was born at a time consistent with the footnote reference for 1822. There he trained to be a baker. Scholarly knowledge, today as then, didn't assure a professional livelihood, especially when one was a signatory to a document opposing local party leaders (see Fig. 3). Additionally, for Nikolaos or Anagnostis Palteas or Balteas we know the following: in a notarized
---
15Literally, the "Minister of the Military," as translated from the original article.

16The original Greek read "iron medal."

17This is a Greek term for the Mavromihalis clan.

---