For more news, analysis and
features from the Athens News,
visit http://www.athensnews.gr
Hellenic Communication Service, L.L.C. provides links to
Greek News Sources.
Click on the links
below to visit
their sites.

---

Athens Photo News

---

---

---

---

---

---

---

---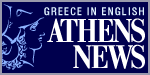 Fighting Terrorism: Behind the Scenes

Greek counter-terrorism police learned methodical analysis and computerisation from Scotland Yard, a leaked report reveals

WHEN Scotland Yard arrived in Greece immediately after the murder of British military attache Stephen Saunders by November 17 (17N), they admittedly experienced police culture shock. Never in the quarter-century history of 17N had the files of nearly two dozen victims been systematically compared. Greek police's counter-terrorism bureau was not even in the nascent stages of computerisation. Forensics facilities too were technologically nowhere close to the British counterpart.

In June 2001, the methodical work conducted in good faith with their Greek colleagues produced a report of several hundred pages.

The document, parts of which were published in the daily Ta Nea and excerpts of which the Athens News carries today, offer a systematic overview of the activity of the terrorist group and a plethora of strategic recommendations on how to exploit existing evidence and develop new leads.

The report begins by analysing weapons and ammunition, close-quarter assassinations, other shooting incidents, bombing attacks and procurement.

The report stresses a focus on "re-examination of evidence currently held". The pressing need was obvious, and British police minced no words. "The review team observed that the Hellenic National Police did not investigate crime as a linked series, did not have a computerised crime management system and did not use analysis as an aid to investigation," they said, raising serious questions on what Greek police actually did to probe terrorism for over two decades.

Common sense

In many instances, British recommendations required little more than common sense: adopt standardised serious- and series-crime investigation procedures, introduce computerisation to assist in the cross-linking of information gathered during the course of a probe, adopt an analytical approach to the investigation of major crimes.

Surprisingly, "comparative case analysis (to identify common links) and comparative crime-pattern analysis (identifying clusters of activity)" were "new initiatives" for Greek police.

While British police's first aim was to gather evidence to convict Saunders' murderers, they were eager to collect evidence "to support a criminal conspiracy against members of November 17".

British police divided into two teams, working on a two-week rotational basis with Greek colleagues.

Their project was first to capture data, analyse it and then prepare a report.

They identified 13 areas of data by subject, each comprising a distinct section of the report, which highlights "clearly identified links between the various incidents attributed to 17N".

"This empirical evidence supports the hypothesis that individual 17N attacks were part of a linked series of attacks."

Eight weapons

The weapons and ammunition section identifies eight weapons used by 17N: three 45-calibre guns (labelled 45 A, B, C), three 38-calibre guns (noted again 38A, B and C), one 7.62mm Heckler and Koch G3 (used with Saunders) and one 9mm weapon (used on industrialist Dimitris Angelopoulos). The 45A was used in 11 shootings beginning with CIA station chief Richard Welch in 1975, and 45B in six murders, the first of which was in 1980. The 45C was only used in a 1991 shootout with police.

The report notes the individual attacks in which the guns were used and the combination.

"The use of signature weapons by 17N is a significant factor for Hellenic National Police investigating officers. It is a major weakness in 17N's methodology, as the recovery of any, or all, of the weapons would provide compelling evidence against any suspects arrested in possession of the weapons," the section concluded.

A section on the 18 close-quarter assassinations by 17N divides these into three categories - drive-by shootings, blocking the path of victims' vehicles and incidents where both victim and attacker are pedestrians - before enumerating the method of attack, weapon used and circumstances in each of the murders individually.

The report identifies "a high degree of prior planning to ensure there is very little if any interaction with the victim" in close-up shootings. "They are precise, leaving little opportunity for forensic recovery at the scene - other than she ll cases. Escape routes also show a degree of planning."

Still, the report finds a pattern in these attacks. "The terrorists are confident to commit repeat offences in the same areas of Athens, using repeat methodology and previously used weapons," the review says.

The report proposes that Greek authorities broaden surveillance in their probes with use of existing private closed-circuit television (CCTV) and the creation of state CCTV networks to monitor the public's movement: "There are privately owned CCTV systems in Athens, together with other 'official systems', eg 'traffic management'. The Hellenic National Police should create a CCTV counter-terrorist database, subject to Hellenic law, along the same lines as the IRIS Database used in London... and be directly involved in planning and siting of CCTV systems to be introduced in Athens for the 2004 Olympic Games," Scotland Yard suggested, focusing on areas where murders had taken place. It also proposed adapting traffic management "automatic number plate readers" (ANPR) for use in counter-terrorism.

Finally, broader surveillance of mobile phone communications is advised, with the adoption of cell site analysis, which should be "covered by relevant legislation".

The report shows that authorities had linked 17N to four robberies even before a June 29 attempted bombing revealed many more. That included a 1984 National Bank robbery where a policeman was murdered and his stolen gun found at the site of the abortive bomb attack six weeks ago. The report suggested that robberies of similar methodology where no shot was fired be researched as "it would appear that 17N does not claim incidents that could be perceived as criminal (eg bank robberies)".