For more news, analysis and
features from the Athens News,
visit http://www.athensnews.gr
Hellenic Communication Service, L.L.C. provides links to
Greek News Sources.
Click on the links
below to visit
their sites.

---

Athens Photo News

---

---

---

---

---

---

---

---
'Deadly blow' against terrorism as chief suspect surrenders

Dimitris Koufodinas, a.k.a. the 'Poison Hand,' took a most unexpected route to justice - a taxi ride to police headquarters on Alexandras Ave
By Derek Gatopolous, Athens News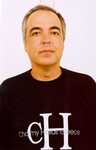 DIMITRIS Koufodinas, the secretive beekeeper from Serres, northern Greece, accused of leading all November 17's deadly attacks since 1984, surrendered to police in a move the government described as a "deadly blow" to Greek terrorism.

Authorities said the 45-year-old fugitive, Koufodinas - known as "Poison Hand" because of his deadly accuracy with a gun - took a taxi in torrential rain to police headquarters in central Athens around 2.30pm on September 5 and told a guard: "I am Dimitris Koufodinas, I want to turn myself in." He was wearing jeans, a black t-shirt, sunglasses and a baseball cap.

The stunning capitulation follows a two-month manhunt, the largest in Greek history, for the man believed to link the organisation's ageing founders to its gunmen. He has already been charged in absentia with more than 100 offences, including 17 murders. His alleged victims include British military attache Stephen Saunders, two US military officials and two Turkish diplomats.

"[I] assume political responsibility of all the actions of November 17," Koufodinas said in a statement read out by his lawyer, Ioanna Kourtovik. "[I] deny my guilt in actions as they are described in the indictment. [My] life has been guided by the belief in building a revolutionary movement and the vision of a socialist society." Kourtovik said she had been contacted by Koufodinas shortly before his surrender. "He appeared on his own free will to take responsibility for his actions," she said. "I do not know where he had been [hiding]. Many of the details given in the press about his whereabouts were wrong." Government officials, who feared 17N fugitives could regroup before the 2004 Olympics, appeared relieved at the news.

"Koufodinas' arrest is very significant," deputy parliament speaker Costas Geitonas said. "This has dealt a deadly blow to terrorism in this country." It was the second major arrest following the capture on July 17 of Alexandros Yiotopoulos, the alleged 17N leader, and brings the total number of suspects in custody to 16.

In the hours following his surrender, police gave no details of where they believed Koufodinas had been hiding, but the government strongly denied there had been any negotiations.

There was also no immediate information on whether Koufodinas may have been involved in the theft of weapons from an army base on the island of Kos a month ago and statements published in the Greek news media that threatened renewed attacks.

"His arrest was matter of time. He surrendered to police, apparently to protect those who had been sheltering him," government spokesman Christos Protopappas said. "His fingerprints were taken and he was identified as Koufodinas. There was no negotiation with the government or contact with him." Moments before Koufodinas' appearance, Public Order Minister Michalis Chrysohoidis visited Premier Costas Simitis to brief him on the developments in the terrorism investigation.



Police believe the fugitive was the self-declared far-left group's chief recruiter and acted as treasurer for money seized in over a dozen armed robberies of banks, post offices and cash delivery vans. He may also provide valuable clues to 17N's purported ties with overseas terror groups and Greece's militant Revolutionary Popular Struggle (ELA), which disbanded in 1995.

Koufodinas' partner, Angeliki Sotiropoulou, was reportedly called in by police for questioning after the fugitive's surrender.

All of the police's resources had been poured into the manhunt for Koufodinas during the monthlong pause in arrests. Pictures of him in various possible disguises had been posted at police stations around Greece, while authorities in Cyprus had also been alerted.

Authorities blame the slowed pace of arrests on the difficulty in gathering evidence on crimes committed as far back as 1975 and the group's secretive structure that apparently kept the planners' identities hidden from other members.

The last man arrested, 41-year-old brewery worker Sotiris Kondylis, was captured on August 1. All the suspects except Koufodinas are now being held at Korydallos prison in Piraeus. Savvas Xiros, the alleged 17N bomber whose injury triggered the crackdown, was released from hospital and ta ken to jail.

Xiros, a 40-year-old icon painter, joined his two jailed brothers, 17N suspects Vassilis and Christodoulos Xiros. Injuries from the botched June 29 bomb attack were visible as he was escorted through the gates of Korydallos: glasses for his serious eye impairment and missing and mangled fingers on his right hand. He was also wearing a bandage over his left ear.

Since the arrests began, Greeks have hardened their opposition towards November 17. A poll has found 82 percent said the urban guerrilla group had caused "great harm" or "harm" to the country, while only 4.5 percent were supportive of their 27-year campaign of violence.

The Kapa Research poll was published in the Athens daily To Vima and suggests a strong shift in opinion against the group once perceived by some Greeks as gunmen fighting for a worthy cause. It found 74.1 percent considered arrested 17N suspects to be "criminals", while 13.1 percent said they followed an ideology.

A similar survey published in late July found that nearly one in five people looked on members of the militant group as "social revolutionaries".

"Democracy has defeated one of its enemies," Public Order Minister Chrysohoidis said on the eve of Koufodinas' surrender. "The government has done its duty. Terrorism had to be wiped out."