For more news, analysis and
features from the Athens News,
visit http://www.athensnews.gr
Hellenic Communication Service, L.L.C. provides links to
Greek News Sources.
Click on the links
below to visit
their sites.

---

Athens Photo News

---

---

---

---

---

---

---

---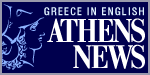 Shadows of Impunity?

Amnesty International and International Helsinki Federation for Human Rights joint report exposes 66 cases of police brutality and excessive use of force in Greece

By Kathy Tzilivakis, Athens News
Reprinted by Permission

A FAMILY of Gypsies is humiliated and mistreated by police officers. An elderly Albanian is severely beaten and shot in the stomach by border guards. A Nigerian detainee awaiting deportation accuses guards of torturing him with electric shock. A 21-year-old Gypsy who failed to stop for a roadside check is shot and killed by a police officer.

Sixty-six cases of alleged human rights violations - excessive and unjustified use of force - by police are documented in a special report jointly released on September 24 by Amnesty International and the International Helsinki Federation for Human Rights. According to this 96-page report titled "In the Shadow of Impunity: Ill-treatment and the Misuse of Firearms", the vast majority of victims are migrants, asylum seekers and Gypsies (also known as Roma). And police officers are rarely, if ever, held accountable.

"In October and November last year, two men died after being shot by police in Athens," says Melanie Anderson, Amnesty International's researcher in Greece. "One was a young Roma, the other a young Albanian. In both cases, the police officers involved claimed their firearms had fired by accident... In all cases except one, the officer being convicted received a suspended sentence or a sentence that allows the defendant to buy his way out of prison... This points to almost de facto impunity for police officers."

No police officer has been tried yet this year. In 2000 and 2001, three officers were tried. Two of them were found innocent and the third was sentenced to a reduced 15 months in prison.

The report, which covers a period from 2000 to mid-2002, refers to eight fatal shootings. The victims were three Gypsies, two Albanians, a 17-year-old Serb student on a school trip to Greece and two Greeks. A series of other cases involving slaps, punches and kicks, as well as beatings with truncheons and rifle butts are also included in the report, as are cases alleging psychological ill-treatment, racist abuse and sexual threats.

"The many documented cases in the report indicate that this is not an isolated problem, but a broader problem that needs to be addressed," said Bjoern Engesland of the International Helsinki Federation for Human Rights. "I hope the Greek government will deal with findings in the report, seriously consider the recommendations and initiate a dialogue with human rights groups."

Determined to recover Greece's bruised human rights record, government spokesman Christos Protopappas told reporters on September 26 that Amnesty International should have discussed the matter with the government in order to "be better informed". He argued that Greece both respects human rights and protects democratic values. In a similar vein, Deputy Public Order Minister Evangelos Malesiou charged that the controversial report is based on isolated cases and does not represent reality.

The report outlines dozens of recommendations - measures to eradicate the use of torture and ill-treatment by police and law enforcement officials and to prevent impunity. One of the main points is the prompt, thorough and impartial investigations into allegations of unlawful use of firearms, torture and other cruel, inhuman and degrading treatment or punishment. The drafters of the report also call on Greek law enforcement officials to observe the provisions of Article 278 of the Criminal Procedure Code, which require they behave with all possible civility towards the person they are arresting and to respect their rights and are not permitted to use handcuffs unless the person being arrested resists or is suspected of being likely to flee.

Other recommendations include improved training for law enforcement officials, including race-awareness, and for the public order ministry to remind officers, through a formal statement, that the ill-treatment of persons in custody is subject to severe sanctions. The human rights watchdogs also call on Greece to ratify Protocol 12 of the European Convention on Human Rights, the Council of Europe Framework Convention for the Protection of National Minorities, and the International Convention on the Protection of the Rights of All Migrant Workers and Members of their Families.

"Although the authorities claim that Greece is particularly sensitive to human rights, in practice legal provisions designed to protect these rights are frequently ignored, leading to serious human rights violat ions," said Anderson. "At the heart of all these recommendations is the principle that laws alone cannot protect human rights. Only their implementation can. " She stressed that police "solidarity" and lack of free legal aid and direct access to forensic examinations for the victims obstruct human rights safeguards and set the stage for impunity.

Many human rights advocates are sceptical about the government's commitment to crack down on excessive use of force by police and to remove the barriers that deter efforts to hold them accountable. It remains to be seen if many of the cases, which are currently under investigation, will be thoroughly and impartially investigated and whether the officers who have committed human rights violations are not allowed to escape due punishment. "Now the whole world knows there is impunity in Greece," Panayote Dimitras of the Greek Helsinki Monitor told the Athens News. "The Greek government is under pressure to do something, but I cannot be very optimistic they will actually do something. " He explains: "In June we read a newspaper report about how [the chief of Greek police Fotis] Nasiakos issued a circular telling policemen how to behave, to be nice, to inform detainees of their rights and so on. So we wrote a letter to the chief praising this action, but also informing him that this is not happening... Looking back, I can now say with certainly that the circular was issued not to tell police to change their attitudes, but to send the English version of the circular to the CPT [the European Committee for the Prevention of Torture and Inhuman or Degrading Treatment or Punishment]. I am absolutely sure the circular was to show the CPT that Greece is doing something."