For more news, analysis and
features from the Athens News,
visit http://www.athensnews.gr
Hellenic Communication Service, L.L.C. provides links to
Greek News Sources.
Click on the links
below to visit
their sites.

---

Athens Photo News

---

---

---

---

---

---

---

---
Game over for Internet cafes?

Thessaloniki judges acquit Internet cafe owners accused of breaching law that makes it illegal to play online chess at home

By Harry Papachristou, Athens News
Reprinted by Permission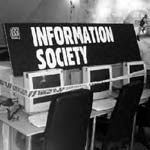 Police seal PCs at a Thessaloniki Internet cafe on August 27. Owner Christos Iordanidis was tried for violating the government's gaming ban

IMAGINE if the government banned all cars because it could not prevent road accidents from happening. Absurd. Yet that was the Greek lawmakers' frame of mind last July when they summarily banned gaming conducted by electronic and mechanical means in a desperate attempt to clamp down on illegal gambling.

To the great relief of all those who still believe Greece is a modern country, on September 10 a Thessaloniki lower court in effect consigned the law to the dustbin. It acquitted two local Internet cafe owners dragged before it on charges of breaching the law, after undercover police agents found their clients committed the "heinous" crime of playing chess online. The law violated basic constitutional liberties, the judges said.

"I knew there was a law against gaming but thought it was directed against illegal gambling operations," said Christos Iordanidis, one of two persons acquitted, told the Athens News, explaining his stupefaction after he was dragged away in handcuffs by plainclothes policemen to spend a night in jail on August 27. Agents charged him with breaching Law 3037, which prohibits gaming, and wrapped 28 of his PCs in tape. At the time of the arrest, his dangerous clients were playing chess, backgammon and Counter Attack, an enormously popular PC game. If found guilty, Iordanidis risks paying a 280,000 euro fine.

Iordanidis and fellow defendant Yiorgos Kifonidis are only the most public examples of gaming persecution. Medium- and small-sized businesses have also suffered.

Nikos Serdaris says Law 3037 has cost him more than 3 million euros. Serdaris imports and distributes Photoplay gaming machines, a platform for quiz and memory games. He leased, but mainly sold, 7,000 of these across the country. After the law was passed, most gaming halls he catered to closed. With legislation banning even the installation of new gaming machines, Serdaris practically went out of business. He has already appealed to the European Court of Justice.

Desperate backlash

Law 3037, unanimously passed last July and signed by President Costis Stephanopoulos and six cabinet ministers, is a monument to misrule. In its opening remarks, its drafters openly admit that because police cannot prevent rogue game hall operators from turning arcade games into one-armed bandits with the switch of a button, all "electric, electromechanical and electronic games with no exception whatsoever" have to be banned. This includes everything from amusement park machines to the omnipresent Gameboy. Deputies even ran roughshod over the parliament's legal committee objections, which found that the law could violate basic constitutional liberties.

"MPs we lobbied told us there was nothing we could do to prevent this law. 'The bill comes straight from the prime minister's office', they told us," said Internet cafe owner Vassilis Vitas. Last spring, investigative TV journalist Makis Triantafyllopoulos embarrassed the government by showing footage of a ruling party MP playing illegal, one-armed bandits. The MP in question also happened to be the head of the parliamentary commission against illegal gambling. In 1999, the government had another unpleasant experience with gambling when the opposition forced it to withdraw plans to license a Videolotto gaming operation which would have led to widespread installation of gambling machines.

"I detect a discreet sense of guilt in the government's exaggerated reaction," a legal source close to the case commented.

How is the Internet affected?

In order not to inhibit the development of the Internet, the law explicitly allows "the installation of PCs in companies operating as Internet service providers" (ie, Internet cafes) from its remit. But it does not exclude Internet cafes from the gaming prohibition. According to Internet cafe owners, this opens the door to abuse of legitimate business.

"I'm afraid that in a few months there will be phoney Internet cafes all over the place that will in reality serve as illegal gambling operations," said Thessaloniki Internet cafe spokesman Nikos Kakayannis.

Internet cafe owners also say that the law is just not enforceable. "We removed all gaming software from our computers. Groups of five people literally patrol users," one owner says. "When we see them gaming, we tell them to stop." In a Thessaloniki cafe, a big "gaming prohibited" sign hangs on the wall for all to see. Most clients show understanding but turnover has dropped b y more than 50 percent, owners say.

"The police must understand that as far as Internet cafes are concerned illegal gambling can be checked best through peer control," Kakayiannis says. "By checking servers we can control our profession much better than police can," Vitas concurs. "Policemen switched off computers because they couldn't tell the difference between a Hollywood movie trailer being watched online and a game," he adds. Attempts are under way to register official Internet cafe association owners.

Internet cafe owners now hope the government will issue a circular clarifying which games have to be considered illegal. Only the Supreme Court and the Council of State, Greece's highest courts, can terminally strike down a law as unconstitutional. The government, meanwhile, seems to have no intention of repealing it. "The minister does not comment on court decisions," a spokesman for Deputy Finance Minister George Fotiadis, who sponsored the law, told the Athens News.