Author H. Frank Meyer Awarded Medal of Honor for Work on World War II Action in Greece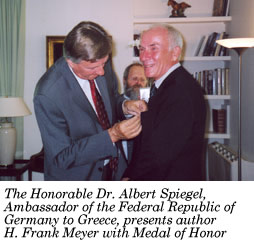 Athens, Brussels, Portsmouth, NH (HCS) – On Friday, 22 October 2004, the Honorable Dr. Albert Spiegel, the Ambassador of the Federal Republic of Germany to Greece, presented author H. Frank Meyer with the Medal of Honor of the Federal Republic of Germany, that nation's highest civilian award. At a formal ceremony and reception in Athens, Greece, attended by dignitaries, friends, and family from several countries, the ambassador delivered a speech in German and Greek outlining the literary and professional accomplishments of Meyer and the reasons for conferring this prestigious award.


After a successful business career, Meyer turned his attention fulltime to historical research, continuing efforts begun several decades earlier. His extensive efforts have resulted in the publication of five books on World War II, with particular emphasis on action in Greece. Meyer's latest book,
From Vienna to Kalavryta. Bloody Traces of the 117th Division in Serbia and Greece
, has been published in Greek by Estia Publishers of Athens (ISBN 960-05-1112-8,
www.hestia.gr
), with a translation by Yiannis Mylonopoulos. In this text, Meyer traces the movement of a Jaeger division in Serbia and Greece: "Fighting against partisans, the killing of hostages, and the massacre in Kalavryta mark the route taken by the Wehrmacht. . . .The entire course of the war is described, including the role played by the British, the Italians, the [Greek] Partisans, and the Greek "Security Battalions" ("Tagmata Asfaleias") who collaborated with the Germans."
Dr. Spiegel elaborated upon the authorial process used by Meyer: "his works draw their persuasiveness from facts that are not reported with moral overtones, but are confined solely to clear description." In order to gather those facts, Meyer traveled to "more than two dozen archives in Europe and the USA, interviewed numerous eyewitnesses, and evaluated personal diaries as well as relevant specialist literature." During the award ceremony he was officially commended for the extensiveness and precision of his research, for his ground-breaking presentation of objective and substantiated facts about German activity in the Balkans during World War II. Through his research travels to Greece, Meyer has helped to establish contacts between Germany and Greece and improve relations between them, having visited many small villages and having interviewed elderly eyewitnesses. Through the publication of his works, the author helped to dispel myths about this time period and to publicize a revised history based upon objective findings. "The key to reconciliation is found only in a recollection of the truth. Only a country that knows and acknowledges its past, has a future," said Dr. Spiegel.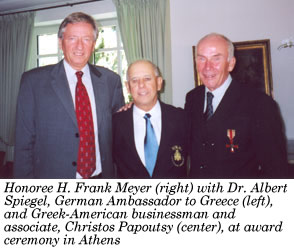 Dr. Spiegel explained that the author's research in Greece stemmed from his desire to learn the fate of his father, a non-combatant German officer who had been declared missing during the war. Meyer discovered that his father had been seized by Greek "andartes" and later killed after being held captive. The full story appears in Meyer's first book,
Missing in Greece
, published in 1995. Following Meyer's first successful entry into the world of historical literature, he published
Bridges, too, Have a Destiny; Kommeno; and Memories of Hans Wende
. Synopses of his published works appear on his impressive Internet website at
http://www.hfmeyer.com
where visitors can select site text in one of five languages.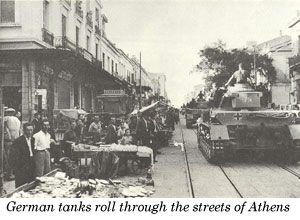 During the course of his investigations, the author has amassed an extensive library. Among its holdings are copies of proceedings from prosecuting attorneys' offices, files of the Nuremburg trials, reports of the Wehrmacht, personal notes of German and Greek combatants, original documents, deployment plans, maps and drawings, unpublished manuscripts, photographs, videos, diaries, monographs, essays, and newspaper articles. Meyer indicates that he would be pleased to make the holdings of his research library available to interested parties.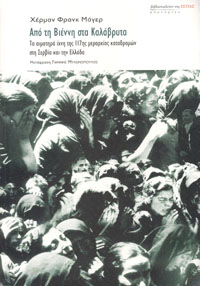 But the author's work has not ended. He continues to interview witnesses who lived in Greece during World War II and is now working on his sixth book, a volume about the 22nd Division (Jaeger) active in southern Albania, Epirus, Corfu, and Kefallonia under General Lanz. As with his previous works, Meyer seeks primary sources in order to present readers with factual findings. And so he encourages eyewitnesses to contact him. He believes that people "often underestimate the value of diaries, notes and photo albums inherited from their father or grandfathers," and would be very interested in evaluating such materials for possible inclusion in his research.
About the Author
H. Frank Meyer was born in Germany in 1940 and studied economics at Hamburg. His professional career took him to Spain, Nigeria, Switzerland, Brussels, and the United States. While working for Union Carbide in Geneva, he met his wife Liesel. They were married in Brussels where Meyer started work for Gardner Denver and his wife served as an interpreter in English and French. Eventually he worked for Cooper Industries, meeting Greek-American businessman Christos Papoutsy, from whom he later bought a small division of Cooper. In 1991 Meyer sold his company Pneutronics and turned his attention fulltime to historical research. He currently writes and lectures about history, traveling throughout Europe and the U.S. to speak at universities and private institutions. Together with his wife Liesel, he has two sons and makes his home in Brussels.
A Note From the Editors
For readers of Greek descent, this series of scholarly books by Meyer present material never before published. Meyer has plumbed the depths of European archives, as well as interviewed numerous Greek and German eyewitnesses to present a factual account of German activities in Greece during World War II. His books thus add richly to the recent number of texts representing a Greek perspective that have appeared on the market. For persons interested in a full account of this historical era, Meyer's books are a must-read.

HCS readers can read a review of Meyer's latest book completed by Professor Nina Gatzoulis of the Modern Greek Studies program at the University of New Hampshire. In addition, the full text of the speech delivered by the Honorable Dr. Albert Spiegel about Meyer is also available for HCS viewers to read. The Christos and Mary Papoutsy Charitable Foundation is finalizing plans to bring author Meyer to the U.S. to lecture on his research; details will be announced on the HCS website.