Boston Cathedral Cultural Committee Hosts a "Musical Odyssey" October 23, 2010
The Cultural Events Committee of the Annunciation Greek Orthodox Cathedral of New England in Boston will take you on a Musical Odyssey when it presents a concert of contemporary Greek composers October 23. Featuring the internationally acclaimed and award-winning musical composer, Panagioties Liaropoulos, and The Greek Music Ensemble, the concert will take place at 8 p.m. at The Cathedral Center, 162 Goddard Ave., in Brookline, MA 02445. "This is sure to be a magical evening that will delight music lovers of all ages," said Annette Kaselis, a Dedham, Mass. resident and one of the concert's chairpersons. Listeners will delight in the music of Hadjithakis, Thedorakis, Vangelis and a few other surprises for music lovers of all ages.
Read entire press release.

London's Royal Academy of Arts Releases New CD Recording by Cappella Romana for Mega-Exhibition "Byzantium 330-1453"

Cappella Romana announces the release of its 11th recording, the official companion CD commissioned for the exhibition, "Byzantium: 330-1452," at London's Royal Academy of Arts, on display from October 25, 2008 to March 22, 2009.
The Royal Academy calls this new CD "A glorious collection of choral music which traces the rise and fall of the Byzantine Empire, all sung by the world's leading performers of Byzantine chant, Cappella Romana." The ensemble's first museum exhibition CD, Music of Byzantium, commissioned by the Metropolitan Museum of Art in 2004, sold 12,000 copies.
Read more
.
"Apollo on Delos" cultural event with Filarmonica della Scala and soloists of the Teatro alla Scala Ballet-Delos, Greece--01 September 2007
The Alexander S. Onassis Public Benefit Foundation will present a major cultural event entitled "Apollo Delios" on Saturday September 1, 2007 on the island of Delos. The event will feature participants of international acclaim, the Filarmonica della Scala and soloists of the Teatro alla Scala Ballet. "Apollo Delios" will consist of two parts: Igor Stravinsky's "Apollo Musagete", choreographed by George Balanchine, with Roberto Bolle in the leading role, and Gustav Malher's 1st Symphony. The Filarmonica della Scala will be directed by Daniele Gatti. This major cultural event will be recorded and broadcast nationally on television by the Hellenic Broadcasting Corporation (ERT) and –via satellite- internationally to the Greeks of the Diaspora and to countries that have expressed interest in broadcasting the event.
Read more.


New York Federation of Hellenic Societies Presented Freedom Concert with Greek-Canadian Baritone Karoussos

On April 12, 2007, the Federation of Hellenic Societies of Greater NY presented a Concert for Religious Freedom, dedicated to His All Holiness Ecumenical Patriarch Bartholomew of Constantinople, spiritual leader of the Orthodox Christian world. The concert featured the works of Greek-Canadian composer-baritone Panayoti Karoussos and took place at the Stathakion Center of the Federation in Astoria, NY. Several of the concert works reflected the nature of the struggle and triumph of the Greek consciousness in celebration of the 186th anniversary of Greek Independence from Ottoman rule. The program included parts of the Spirit of Liberty, which was performed during the 2006 Greek Parade weeklong festivities, as well as a violin concerto, a mandolin concerto, and selections from the operas Prometheus, Alexander the Great and the Olympic Flame. Of particular interest, Karousso presented a piece called Religious Freedom, to complement this year's parade theme.
Read more.

Cappella Romana Performs at Princeton and Yale


Cappella Romana will give two concerts of a new program at Princeton and Yale this April: "Hellenes and the Music of the Renaissance," a program of unaccompanied vocal works in Greek, Latin, and French born from meetings between East and West during the 15th and 16th centuries. The first part of the program addresses the continuation of the Byzantine musical tradition immediately before and after the fall of Constantinople, while the second half of the program first considers Western musical responses to the Ottoman conquest.
Read more
.
Applications Being Accepted for GWUC Music Competition
Musicical performers and composers are invited to compete in the National Music Competition of the Greek Women's University Club. Young men and women of Greek heritage between the ages of 20 and 29 are eligible to compete. A $1,000 award(s) will be presented to the winner(s)at a reception immediately following the competition. Deadline 01 March 2007.
Read more
.
Russian music authority Mark Bailey to make his Cappella Romana debut this November
Mark Bailey will conduct Cappella Romana in Tchaikovsky's Divine Liturgy and works from the Slavic tradition November 3 and 4.
Read full release
.
Rembetika' Opening Draws Record Crowd
CHICAGO - The Hellenic Museum and Cultural Center (HMCC) was brimming with guests as they unveiled the newest exhibit, "The Road to Rembetika," on Friday June30. The opening night festivities included a live Rembetika band, Rembetoneiro (of Katerina's fame), mezedes, wine and ouzo.
Read more
Greek Violinist Regi Papa Makes Solo Debut at Carnegie Hall
NEW YORK, NY Violinist Regi Papa (Alexandros Pappas) of Athens, Greece, 19, made his solo debut at Carnegie Hall May 10 as the winner of the Waldo Mayo Memorial Violin Competition in New York City having competed against many of the best young violinists in the world. He performed Sibelius I Violin Concerto in D minor, OP.
Read more
.
Road to Rembetika - New Exhibit Opens at the Hellenic Museum and Cultural Center

This fascinating musical genre is the subject of the exhibition, Road to Rembetika, at the Hellenic Museum and Cultural Center, June 30, 2006 - January 19, 2007. Featuring archival photographs, period musical instruments, vintage recordings, and a re-creation of a Café-Aman setting in which Rembetika music was typically performed, the exhibit traces the turbulent evolution of Rembetika. Road to Rembetika reveals the lives of the many intriguing and noteworthy musicians who contributed to its development and tells the colorful story of a music that not only embraced rejection with defiance but reveled in it.
Read more
Mario Outdoes Andea, Thrills Packed Crowd in Boston
Mario Frangoulis left all competition behind last evening at Harvard University's Sanders Theatre in Cambridge as he brought the house down repeatedly. A wildly enthusiastic crowd refused to let the internationally acclaimed vocalist depart the stage at the conclusion of his benefit concert for The Greek Institute. With his dynamic stage presence, vocal virtuosity, and movie-star good looks, this young man clearly demonstrated that he is tops in his field.
Read more.
Cappella Romana Presents its Most In-Demand Program: The Fall of Constantinople, Latin and Greek Music c. 1453

The ensemble's most in-demand program has been performed at such prestigious venues as the Metropolitan Museum of Art in New York City, the J. Paul Getty Museum, Yale and Princeton, the Byzantine Festival in London, and recently at the Early Music Society of the Islands, Victoria, BC. Excerpts are featured on the CD Music of Byzantium, which has sold over 11,000 copies. The "Fall of Constantinople" is a program of Latin and Greek works reflecting the medieval twilight of the (Eastern) Roman Empire. Music to be performed includes majestic Byzantine chants, Latin ceremonial motets and two haunting laments commemorating the fall of Constantinople to the Ottoman Turks in 1453 by Guillaume DuFay (c.1399–1474) and Manuel Chrysaphes, court musician to the last Byzantine Emperor Constantine XI.
Read more.
Cappella Romana Gives Concerts in Rome and Piana degli Albanese (Sicily)
On the border between East and West, between the Greeks and Latins, lies the island of Sicily, where Cappella Romana recently completed an Italian tour with concerts in two Greco-Albanian villages above Palermo in the international festival "Paradhosis: Byzantine Musical Traditions," May 2-8, 2006.
Read more
.
Benefit Perormance of Theodore Antoniou's ALEA III in Boston, MA
Benefit performance on April 9, 2006 at Boston University's Tsai Performance Center celebrating ALEA III under Theodore Antoniou's musical direction. Alea III is the contemporary music ensemble in residence at Boston University, a group devoted to promoting, playing, and teaching music of the twentieth century. Founded in 1978, Alea III is the third such group organized by Music Director Theodore Antoniou.
Click here for more information
.
Rembetika Exhibit at the Hellenic Museum of
Chicago Seeks Artifacts
In preparing for this exhibition, the Museum is seeking loans or donations of the following: Musical Instruments (Bouzouki, Baglamas, Tzouras, Violin, Santouri, Mandola, Saz, Defi (Tambourine) Zilia, Toumbeleki, etc.) and Vintage recordings, photographs or documents.
Read more.
Glykeria Tours US


A singer who needs no introduction, Glykeria has been delighting Greek audiences since her rise to stardom in the early 1980s. Invited to share the stage by George Dalaras himself, Glykeria has continued to perform in over 100 concerts worldwide in support of over 25 gold and platinum albums. She is joined on this tour by Gerasimos Andreatos, also from the Dalaras tradition, and Garganourakis, one of the best Cretan lyra players and singers.
Click here to view schedule.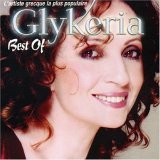 Constantine Maroulis National Concert Tour 2006--Schedule
With an already faithful following pre-dating Maroulis' Idol days, Pray for the Soul of Betty and their signature underground NYC rock scene sound are looking forward to hitting cities they have not gotten a chance to tour since their lead singer, Constantine Maroulis, finished his successful stint on American Idol. Since the show, he has toured with the other Idols this summer, and has been actively participating in his television development deal with ABC/Gramnet Productions, set to start filming in the new year.
Click here to read more and see concert schedule
.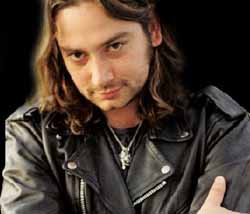 Ivan Moody Conducts Balkan Epiphany
Cappella Romana received double standing ovations with two encores on January 13 and 14 in both Portland and Seattle under the direction of Ivan Moody, internationally renowned composer, conductor, and specialist in music of the Eastern Orthodox Church.
Read more.
Greek Tenor Mario Frangoulis Records Bestseller, Tours U.S.
The latest CD recorded by Frangoulis,
Follow Your Heart
, has remained more than 90 consecutive weeks on the Billboard Classical Crossovers Chart. Already a multi-platinum recording artist in Greece, Frangoulis has captivated the international scene. This handsome musician-vocalist-actor is rejuvenating classical music and opera, giving them a refreshingly contemporary appeal.
Read more
.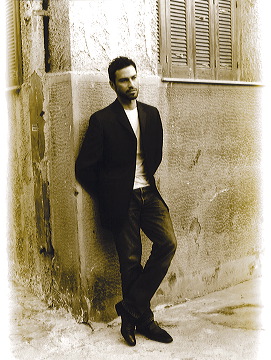 First Double-CD of Hellenic & Near Eastern Musical Society Orchestra

A limited number of double-CD's are available for this live debut recording of the country's finest mini-symphonic Greek & Near Eastern orchestra. The 30 musicians of this unique group produce a rich, full sound of contemporary and traditional Greek music.For more information, contact HCS.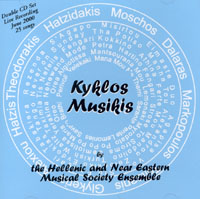 Live Recording of 30-piece Hellenic & Near Eastern Musical Society Orchestra
Now Available

This mini-symphonic orchestra offers a rich, full sound to contemporary and traditional Greek folk music. The second of several recordings by this group, To Miami and Boca--Me Agapi was recorded live at Florida Atlantic University and at an anniversary celebration of St. Sophia Greek Orthodox Cathedral of Miami. For more information, contact HCS.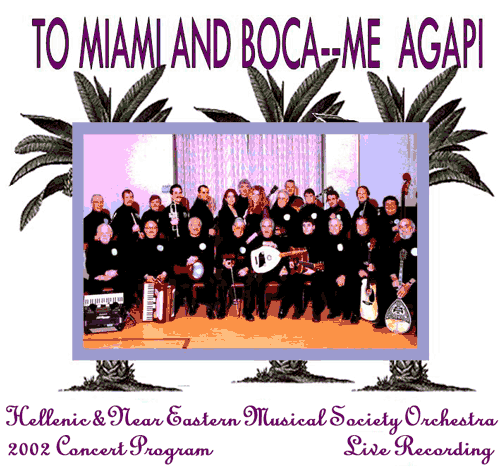 Now on Triple CD: A Celebration of Greek Music in America

A live recording at Harvard University's Sanders Theatre, featuring more than 70 musicians. This musical extravaganza includes performances by the entire assemblage of musicians and individual orchestras: Ellliniki Kompania, Journey to Ithaca, Kokoras Ensemble, Kostas Taslis Quartet,Ta Pethia, The Original Grecian Keys, Trio Bel Canto, and many others. More information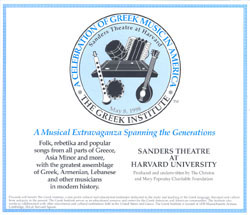 Junior Chorus of Vatoussa, Lesvos Releases CD of Traditional and Contemporary Greek Music

Nearly 30 youths from this charming traditional village sing in an elegantly simple style. The Chorus of Vatoussa was formed in 1999 with the support of the Papoutsy Vatoussa Revitalization Foundation. Since then, under the instruction and guidance of dramatic soprano vocalist Joanna Sfekas Karvelas and pianist Lia Kefala, the group has performed throughout Lesvos and the Aegean. For more information, contact HCS.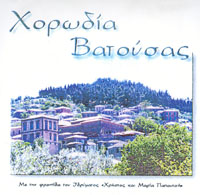 Online Greek Folk Dance & Music Resources Manual

Collected and compiled by Charles Kyriakou in 2000, this is the 19th edition of the manual. Now online, this massive directory lists articles and books concerning Greek traditional folk music, dance, and costume, as well as names and contact information of persons who can create traditional costumes, give dance performances and lessons, and musicians who can play traditional music. Although information about dance troops and musicians is dated, this manual is still an invaluable resource. Click here to go to this page cached by Google.



Illumination Opera Presents "Art is Calling: An Evening with Greek Soprano Julie Ziavras"

Illumination Opera presents "Art is Calling," An Evening with celebrated Greek-American soprano Julie Ziavras, offering a unique evening of opera arias, classical art songs, traditional Greek and folk ballads on Sunday, November 21st at the Parish Center for the Arts in Westford. The program will include works by Puccini, Victor Herbert, Montsalvatge, K. Weill, Mahler, Hadjidakis, Theodorakis, Xarchakos, DeAngelis and more. Ms Ziavras will be joined by pianist Scott Nicholas and her husband, singer-songwriter-guitarist Ken DeAngelis. Ziavras is known for her diversity of repertory and styles and her ability to infuse a classical technique with the popular and folk genre. She has toured extensively abroad appearing at international festivals, concert halls, on radio and television and was invited to Greece by Manos Hadzidakis to appear on Greek National Radio for numerous concerts including a premiere at the Pireus National Theatre. Read more.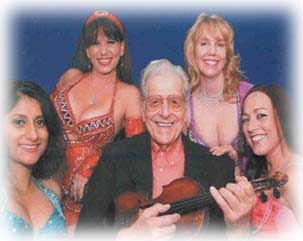 Fred Elias Ensemble Produces CD, Receives Rave Reviews from Performers

The group's first recording, Elegant Music for Belly Dance (Volume One), met with instant success. Word of mouth in ethnic circles spread the news of the release, prompting brisk private sales by the group's distributors. Long-time favorites in the New England area, Fred and his Ensemble (Nick and George Kokoras, and Mike Gregian) have been thrilling audiences for many years, not just in New England, but across the country. Elias is one of the U.S.'s best ethnic musicians, trained both as a classical violinist and as a Middle-Eastern musician. He has performed at all of the country's premier musical venues, including Carnegie Hall and Harvard's Sanders Theatre, as well as at some of the finest venues abroad in Europe and the Middle East. Learn more.

California Elementary Students Sing Byzantine Chant, Led by Cappella Romana's John Michael Boyer

During preparations for Cappella Romana's January concerts of "Mt. Sinai: Frontier of Byzantium," students from Agia Sophia Academy participated in Byzantine chant classes with Cappella Romana singer John Michael Boyer. Boyer led three classes with students in grades 1 through 6, teaching them to sing a hymn for St. Nicholas from Byzantine notation. Read more.

Concerts to Mark Metropolitan Methodios' 25th Anniversary to the Episcopate--March 10-11, 2007

The celebrated Rachmaninoff Festival Chorus, one of Maine's largest and best known choral groups, will perform Rachmaninoff's Liturgy of St. John Chrysostom ,at the Annunciation Greek Orthodox Cathedral in Boston, MA on Saturday, March 10, 2007, 7:30 p.m. and on Sunday, March 11 at 3:00 p.m. The performances will be in honor of His Eminence Metropolitan Methodios of Boston who this year is celebrating 25 years as a Hierarch of the Church. He was elevated to the Episcopacy on July 18, 1982. Read more. For flyer [doc file] Click here.

New CD Release - Taslis - Classics Songs of Greece

A Beautiful Collection of classic Greek favorites. A double CD
featuring instrumentals and vocals for your listening or partying
pleasure. Read more

Thanos Petrelis to Perform in Montreal and Atlantic City 2-3 March 2007 Presented by Greek Concert Promotions LLC Click here for details

Cappella Romana Appeared in London at the 21st International Congress of Byzantine Studies

At the 21st International Congress of Byzantine Studies this August, Cappella Romana performed in two concerts given for the 1,100 delegates assembled from throughout the world.
The splendid chapel of King's College London, built in the 19th century with Byzantine influences (pictured below right), served as the venue for the London concerts. Read more.

Surprise 84th Birthday Party for Legendary Violinist Fred Elias

(25 June 2006)--Hosted by Peter and Mary Kakalekas at their home in Kittery, Maine overlooking the bay and the skyline of Portsmouth, New Hampshire, [it was an] unbelievable spread of Middle Eastern foods, [including] grape leaves, shishkabobs, salads, dips, appetizers, shrimps and birthday cake, plus great music by "birthday boy" Fred Elias on violin, Georgia and Nick Kokoras, vocals and bouzouki, George Kokoras, keyboards, Joe Kouyoumjian and Dick Bayrouty on oud, Paul Mooradian and Anita Agrietha on tamborine and guest drummers Jay Baronian, Garo Papazian, and Harry Papazian, and Richie Samourian on cocktail drum, Zabeth on zills and guest belly dancer Ami Dahlal Click here to read more and see photo gallery.


The Hellenic and Near Eastern 25 Piece Musical Society Orchestra Releases its Fall 2006 Schedule

For the Very Best in Greek, Near Eastern & American Music, Mihalis Papoutsis (Mikel Papoutsy) Offers His Music Ensemble: Mikel Papoutsy and "The Hellenic Ensemble"

Internationally Acclaimed Balkan Strings Trio to Perform at St. Sava Serbian Orthodox Church in Cambridge, MA

Balkan Strings Trio, an internationally acclaimed ensemble from Serbia consisting of father Zoran Starcevic and his two sons Nikola and Jeljko, will perform Saturday, July 15, 2006 at St. Sava in Massachusetts.Balkan Strings Trio won First Prize and the Dolphin statue for being the best instrumental ensemble on the Music World Festival - 2004 Internacionale Fivizzano in Italy.Read more.

Last Song From Nana-Multilingual Chanteuse Mouskouri on Farewell Tour

The Multilingual Chanteuse and former politician - born Ioanna Mouskouri but affectionately called Nana by fans around the world - is on her Last Song From Nana with Love Tour. The Canadian leg kicks off April 27 in Quebec City. Read more

Musical Tribute to Vamvakaris and Tsitsanis Scheduled at the Archdiocese's Hellenic Cultural Center

On Friday, June 9 (8pm) and Sunday, June 11 (5pm), Grigornis Maninakis and his Mikrokosmos Ensemble will present a not-to-be missed musical tribute to the two great rebetika masters, Markos Vamvakaris and Vasilis Tsitsanis. Read more.

Jazz Concert by the Pandelis Karayorgis Trio in Boston on 12 April 2006

There's more to the contemporary piano trio than covering Nirvana tunes. Jazz pianist/composer Pandelis Karayorgis and drummer Curt Newton have produced music of subtlety and surprise in their collaborations over the past 10 years. Of their latest recording, reviewer Dan Rose (OneFinalNote) says "This [CD] is a gem...a most musical of collisions, it hasn't left my player in weeks." Their trio, with stellar bassist Jef Charland, will play original compositions plus a few rarely-heard Monk pieces at Rutman's Violins (near Symphony Hall). Click here to read more.

A Musical Tribute to Ecclesiastical and Classical Music--A Concert Presented by the Greek Orthodox Metropolis of New Jersey

Scheduled for March 25, 2006, A Tribute to Ecclesiastical and Classical Music will feature two symphony 'Finales" from the oratorio of the symphony 'Levendia" by Manolis Kalomiris (1883-1962) and the 'Symphony of 1821" by Nikolaos Astrinidis. A benefit for the Metropolis Building and Cultural Center Fund, the purpose of this concert is to celebrate freedom and independence, as well as the dual significance of March 25th to the Greek people.The symphonies will be performed by noted orchestras, choirs, vocalists, and performing arts dance troupes of the greater New York area. Click here for more information.

Cappella Romana Tours "The Fall of Constantinople (1453)"

The vocal ensemble Cappella Romana will again tour its most popular program "The Fall of Constantinople" this March. The program will be presented first in the Juan de Fuca Festival of the Arts in Port Angeles, WA on Friday, March 10(2006), then the following evening, Saturday, March 11 (2006), across the Strait of Juan de Fuca in Victoria, BC, in the Early Music Society of the Islands concert series. This virtuosic program of 14th- and 15th-century music bears witness to the co-existence and conflict between the Greek and Western cultures in the Eastern Mediterranean at the twilight of Byzantium. Click here to read entire press release.




An Evening with Journey to Ithaca

This musical group will perform at the Tsai Center on Commonwealth Avenue in Boston on April 1, 2006. Click here to see flyer.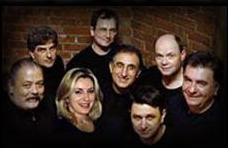 Cappella Romana Singer and Board Member Kendrick Perala Dies After House Fire

According to the Oregonian, Perala was visiting a friend's house when a fire broke out in the kitchen. His body was engulfed in flames and he died a few hours later at a local hospital from injuries sustained in the fire. Perala was one of Portland's most visible ensemble singers, in addition to his work as a piano and harpsichord tuner and computer consultant. He sang bass in most of Cappella Romana's musical projects over the last decade and can be heard on nearly all of the group's recordings. Click here to read more.

An Evening at Eleni's in Portland, Oregon: Cappella Roman's Second Annual Benefit Dinner and Recital

Sumptuous Greek fare and wine and an intimate recital by Cappella Romana, plus some surprises! Silent and live auction, featuring a newly commissioned painting "Agia Sophia: Panagia Protectress" (shown here) by Martha Irene Wallulis, and a week's stay at a villa on the sea in Greece. $85 per person. Space is very limited. Reserve early. Read more.

Aegean Opera Festival June 2006

A concert version of Giuseppe Verdi's Orietta di Lesbo will be performed to the music of Joan of Arc with the alternate libretto on the Greek story of orietta di Lesbo, a libretto unheard since the 1850s in Italy. In addition to a concert and lecture in Oregon by Lewis & Clark College musicians and the Portland Symphony Orchestra, there will be a three-week symphonic/choral/operatic festival held on the island of Lesvos in June, 2006 entitled The Aegean Verdi Festival, in which orchestra members, choruses and soloists will attend from several nations, featuring dramatic soprano Joanna Sfekas-Karvelas of Lesvos. Read more.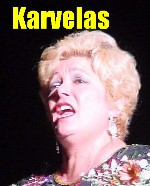 Forgotten Verdi Opera Unites U.S. and Greece

Operaphiles from Vatoussa, Lesvos unearth missing libretto of Verdi whose world premiere revival will be held in Portland, Oregon in March 2006, with dramatic soprano vocalist Joanna Sfekas Karvelas in the title role. Its European premiere revival will take place in Lesvos, Greece in the summer of 2006. Read more.

Wizard Records Announces Release of Beautiful Lady Single CD

This original hit is set to ignite dance floors. Written, arranged, produced and performed by award winning recording artist, ARIS. The single contains four tracks, US Reggaeton Mix featuring rapper Nasty Nate, guitarist Mario Guini and female vocalist Lorelei McBroom, the Bellydance Version and the Sexy Club Mix. Full-length album is scheduled for release in early 2006.

Byzantine Ensemble Formed by Christos Papoutsy

This newly formed group of accomplished musicians will perform chiefly Byzantine secular music arranged by Frederick Elias, renowned violinist and performer. Comprised of three violins, two clarinets, organ, and santouri, this group is unique. See flyer (Mar. 2005).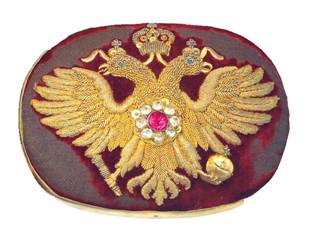 Capella Romana Releases New CD

Capella Romana announces the release of its latest CD titled Epiphany: Medieval Byzantine Chant. It features Ioannis Arvanitis from Athens, acclaimed scholar and performer of medieval Byzantine chant, and is the second release for this highly regarded choral group based in the Pacific Northwest. Read more.

Journey to Ithaca Releases New CD

At a celebratory concert at the Maliotis Cultural Center in Brookline, Massachusetts, this small group of accomplished musicians performed selections of original Greek music appearing on their latest release.
Read more.

Rebetiko on the Internet

A London student has created a site dedicated to "the fabulous women who make the rebetiko famous." It includes stories about the performers, discographies, and a useful collection of links. The most exciting feature, though, is an astonishing collection of recordings dating back to the twenties, and featuring many of the most notable female perfomers. You'll need a Real Audio player (comes with many new computers) to hear the recordings.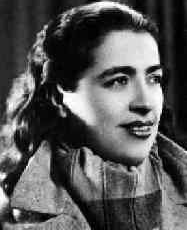 Santouri Taxim CD Now Available

A taxim is a non-metric instrumental improvisation. Each taxim is unique, performed differently, but always drawing upon the inner depths of emotion and feeling of the lead performer. Music composed and performed by Christos Papoutsy and Frederick Elias. For more information, contact HCS.